These men are a group of local enthusiasts who enjoy singing together and have been performing for many years now. What began as a bit of fun at a party long ago has become a local legend.
The group has performed at many venues, ranging from charity events to private functions.  They have joined in at places like "East Gippsland On Show" and more recently providing performances at the Wyanga Winery.  This last venue is no coincidence as the Choir is very grateful for the use of the pleasant winery surroundings for 
practice every Thursday night from about 7:00pm to 9:00pm
. If you enjoy singing, then come along! Notable this year are the performances given to support other local non-profit groups.
Tonight I heard about the death of Leonard Cohen.  He was not my favourite performer as he was the idol of the well do of my university peers (c.1979) who enjoyed privileged upbringings and indulged themselves in their own sophomoric sentimentality.  However as a member of our choir we have come to appreciate at least one of his works, "Hallelujah", and in spite of all my attempts to simply list a song with YouTube or Facebook, I offer it you now as a raw un-pretentious, innocent offering, recorded 3 days before his death.
Hallelujah
  I hope you enjoy it, as we did singing it, thanks Leonard!!!  Thanks Surf, your backing was brilliant!
If you would like to
join our email list
then send us a
Feedback Request
to let us know.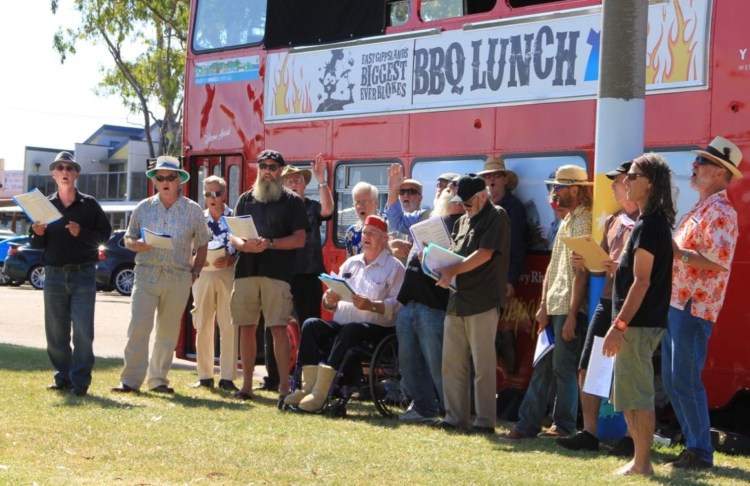 Paynesville Music Festival: Busking Competition.
The boys were giving their all that day, but in the finals became "runners up" to the the mighty Vanuatu Workers Alliance Chorus who  captured the day and went on to be very popular winners!!!  Nice work guys and welcome to the  happy world  of men's choirs. We hope to sing with you soon...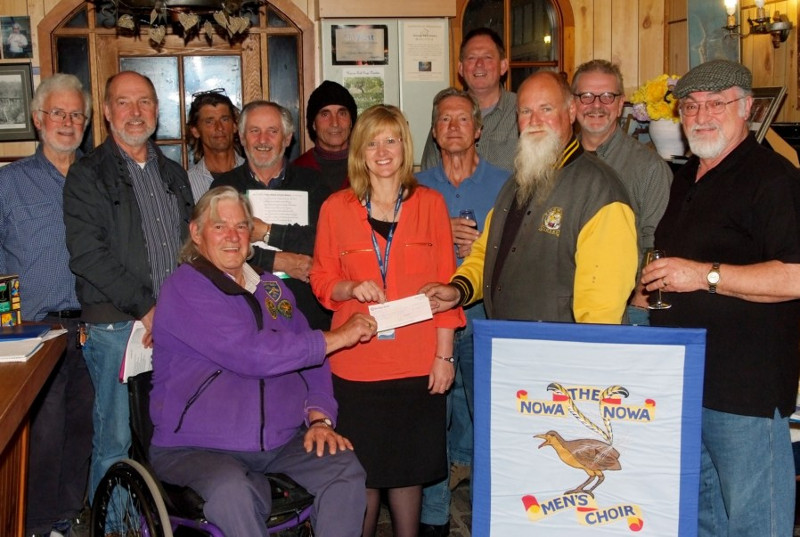 Front row: Rein Jongkryg (Secretary), Sheryl Bush (Palliative Care), Ian Hood (Treasurer), Nick Nagy. Back row: Geoff Mahlook, Rob Ward, Chris Bury, Ken Morrison, Zap Zanoni, Kevin Brew, Paul McKenzie, Kevin Edwards. The cheque donation was worth $1000+!  (Absent: Norm Borg (President)), Guitarist Andrew (Surf) from Loud Music who took the photograph!! ).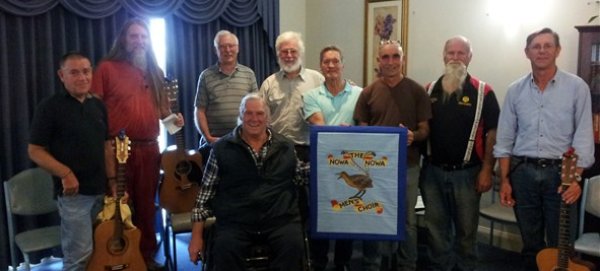 Above: A recent gig at Lakeside Nursing Home. October 2014
Below: Here we are in a fund raising mode for churches in Orbost, with the two world wars as a costume theme.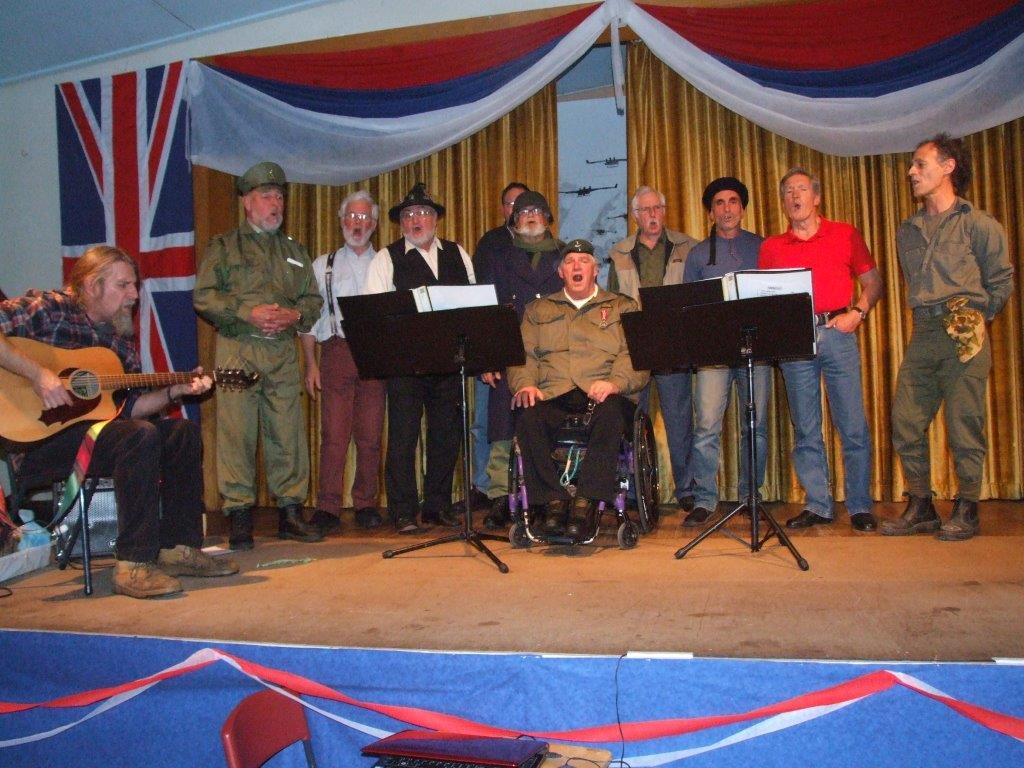 The Choir at Orbost for the July 2013 annual churches Fund-Raiser.
 It had a "
two world wars and in between
" theme. So many of our favourites were sung, along with a few special war tunes thrown in. A splendid night and a credit all involved. Left to Right: Surf (+guitar), Rob, Geoff, Nick, Paul, Ian, Rein, Ron, Zap,  Kevin and Norm