Cycling Paths
Lake Tyers Beach is not a big area but does have interesting little nooks and crannies so to speak that are a comfortable ride if you are not super fit and just want to stretch your legs and get some valuable exercise.
To this end we have investigated a straight forward route that begins in the main part of the town and includes Red Bluff (the local surf beach) and Fishermans Landing (an all-round boat launching and fishing area). About 17km all up.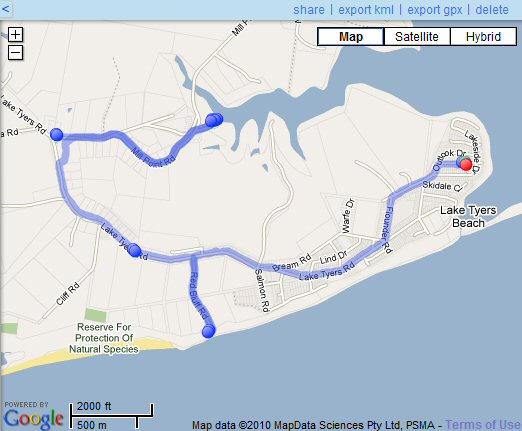 This map was collected on an
Android
phone and it was running an application called "
Cardio Tracker
" . If you check these two links you will appreciate how clever these systems are. The GPS functions of the Android are exploited by the Cardio Tracker software so that the length of the path and the undulations over a range of altitudes can be used to estimate the exercise value of the route.

The Elevation gives a good idea how much huffing and puffing took place. It is acknowledged that the Android phone, Cardio Tracker, and Google Maps are the sources for the above documentation. We are grateful to be able to use their data.
a-e Lake Tyers Beach town to Red Bluff turn off
b-c Easy ride down hill to Red Bluff (admire waves and chill out :-)

c-d Climb out of Red Bluff and make our way to the Toorloo Arm Primary School
d-e Quick run down hill Fishermens Landing
e-f Slow steep climb out of the Fishermens Landing back to the school
after that Nick forgot to keep the system going!!! Curses, no record of our return!!!

There is a well maintained cycle/walking path along Lake Tyers Beach Road from the Toorloo Arm Primary School to the Tavern car park.

This allows the cyclist to avoid traveling along the road with the heaviest traffic and is popular with families who would like to ride together as all or part of the track can be used.

The other roads mentioned here, Red Bluff and Fishermans Landing roads, do not have a separate bike path and indeed do not even have a marked shoulder on the road zoned off for cyclists. The roads are quite reasonable for adults, but probably not desirable for small children. Check them in the car first!