Swimming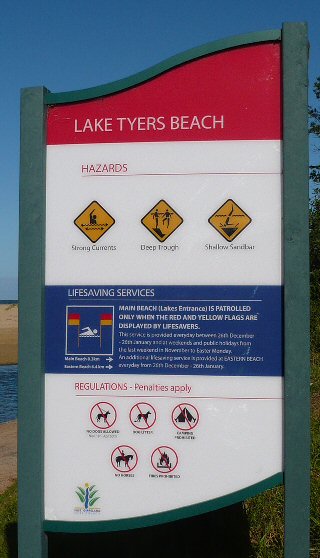 The

Lake Tyers

sandbar provides easy access to the beach and also to the lake.  The quality of the water in the lake can vary, but it has been open twice within two years and the influx of fresh sea water has ensured excellent conditions.  While the lake is closed from the sea there are no tides and the sandbar can provide gentle slopes into the lake that even toddlers can enjoy without the fear of waves.  However make sure young children are closely supervised at all times.

Take care and follow the signs like the one in the photo shown here.  

Lake Tyers Beach

  is an unpatrolled beach and swimmers/surfers should be very careful.  It usually has a
shallow sandbar 
20 to 50metres out and this creates a channel and dampens the effects of the waves.  This is much more obvious at low tide and rips can occur in this system. Check this

Beach Safe

article, and excellent source of information.

There are patrolled beaches in

Lakes Entrance

, opposite the Foot Bridge ie The Main Beach, and sometimes at Eastern Beach.  Stay inside the marker flags and have someone watch out for you to alert the expert Surf Rescue teams to help you if get into trouble.
 Don't rely on this photo, get up close and read the original very carefully.  A number of people have drowned in the surf at this beach as recently as early 2009.  One was just fetching a beach cricket ball from the surf.  Put your safety first.


Water Temperature

If you check out this Bureau of Meteorology link you will see an up todate satellite scan of the water around East Gippsland.  You can see the warmer currents trying to get down from Sydney direction.  The image used below is a reduced version just whet your appetite.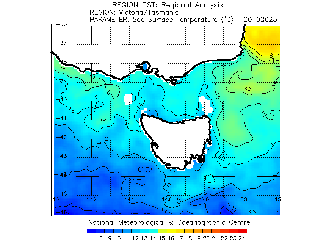 Jan 14 2014, 40year old man drowns at Lake Tyers Beach


Lake Tyers from time to time opens and when is closes it usually has formed some interesting little meanders that create great swimming locations inside the lake and still with clean sea water.

An idyllic spot for a hassle free swim, though watch out for the occasional crabs they bite your toes and draw blood if you are not careful.





Taken from the walking track between Number 1 and Number 2 boat ramps Xmas 2011.



How nice is that?