20th Mar 2019: Even, more catches


Just to add, Flathead have been quite prominent too in catches with people who target them regularly getting the trophy sizes (remember 55cm and over, handle and return safely!). Huge Tailor have also been encountered, so if you want to catch them heavy traces and lures are recommended. If they are around expect to lose your Bream tackle!

Easy as you go.

No-Fuss Guss

(www.laketyersbeach.net.au)


11th Feb 2019: More catches


Anglers have enjoyed more success this weekend with people able to get their bag of Bream and a few "take home" Flathead. Reports of the larger Flathead are around with recorded catches of the monsters sizes around the 85cm mark. Other reports suggest that there are many Flathead in the lake at the moment and the lake would be appear to be in good condition in spite of being at its lowest level for a couple of years. Check the report on the Lake Level.

Easy as you go.

No-Fuss Guss

(www.laketyersbeach.net.au)


7th Feb 2019: Plenty of Variety
Apologies for the long holiday break. We have no excuses there has been plenty going on, but keyboard time has been low!

The lake continues to be at it lowest level for many years with sandbars appearing everywhere. However local gun fisherman Neil has been cutting through and has shared three nice catches with us. Show here is the very nice Trevally taken last week. He also landed a really decent Flathead and Bream that are shown on the bragging pages.

Easy as you go.

No-Fuss Guss

(www.laketyersbeach.net.au)



26th Dec 2019: Flathead are stealing the show.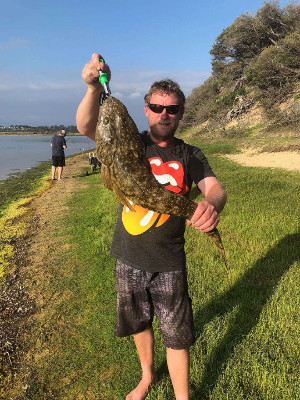 Remember Blake Cameron? Well his dad, Gordon has been in touch this summer with a very nice 80cm Flathead taken off the bank near Mill Point. This is a magnificent breeder and essential to be returned to the water unharmed. Keeping these big females in top condition and breeding well is the back bone to keeping Flathead numbers up, and making sure there are plenty of <55cms (and >29cm) to take home for the plate.

Plenty of small Bream cleaning up hooks, and if you are not rigged up the right way, the Tailor will just take your whole rig off, full stop. So take plenty of bait and tackle!!!

Easy as you go.

No-Fuss Guss

(www.laketyersbeach.net.au)




26th Dec 2018: Flathead Special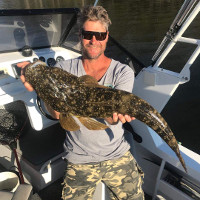 Trent Davis (of Reel It In fame) and Scott in Flathead heaven. What gorgeous looking beasts? And we are talking the fish obviously. These are the future of the Flathead sport in Lake Tyers, properly landed, held and returned to live and breed another day.

However it does require a bit more work than flopping a lure over the side of the boat. These girls are not easily fooled and you may have to work harder than you think to land one.

Easy as you go.

No-Fuss Guss

(www.laketyersbeach.net.au)




22th Dec 2018: Tailor puts a big fight
Cooper Wilson (11yrs, Lower Plenty) with a grand 68cm Tailor caught in the Nowa Nowa Arm on light Bream tackle. The fish launched itself out of the water several times and put up a real fight. Cooper eventually won out on the day and very proudly landed the catch in a net.

This is the sort of fishing that captures young people's hearts and minds. Great to see the lake providing such opportunities.

The algae is building up in the shallows over the sandy areas, and the lake has not risen significantly even though we have fairly regular bursts of rain. The temperature would be above the 20's and evaporation would be taking its toll as well with this hot summer burst.

Easy as you go.

No-Fuss Guss

(www.laketyersbeach.net.au)

20th Dec 2018: Flathead lead the school
Flathead continue to capture the top news spot with plenty to brag about. Sprinkles (aka Shane Greaves) has landed a good catch on the shallows near The Glasshouse(?). There is still plenty of water and idyllic spots to be fished on Lake Tyers this summer, but do take if you are in a boat and especially if you are the skipper. Get you and your crew back safely and enjoy the day out. Lake Tyers is frequently patrolled by both Fisheries Inspectors and Water Police, take care of yourselves and the fish! See you in 2019.

Easy as you go.

No-Fuss Guss

(www.laketyersbeach.net.au)

18th Dec 2018: Bream are not yet goin' easy
Trent Davis is pictured kicking off his season with a really nice Flathead. This may need to be your target species as the Bream are hard to find and not really responding to any baits or lures. It will be a canny fisher who can bag out on Bream at the moment.

The rainfall has been low again this year. From mid year 2016 (when my daily records began) to late December 2016 we had 327mm in that half year, whereas in all year in 2017 we had just 435.7mm, and so far in 2018 all year we had 401.7mm. This is barely over half of the 2016 rainfall. However the lake appears to remain in good condition and able to weather this dry cycle for a good bit longer. The El Niño predictions apparently say we will have a slightly wetter than normal summer, but that is at the expense of the overall decrease in annual rainfall, and especially over winter where crop growth is essential for farmers, and also for opening the lake!

Low rainfall here also means the lakes does not have excessive run off from farm land with nutrients from fertilizers or live stock or natural vegetation break down. So the water is still in pretty good condition, even if not very high. It would be good to get a flush of the lake soon and a fresh influx of species such as Leather Jacket and Snapper that do not breed in the lake.

Easy as you go.

No-Fuss Guss

(www.laketyersbeach.net.au)

1st Dec 2018: Flathead are hotting up
Well known local, Smokin' Joe has thrown down the Flathead challenge with a 95cm catch in the last few days. This guy knows his Flathead and how to work a boat and lures. Well done Joe, a handsome catch indeed!! Note the support for the fish's body.
We have had a share of 67,500 Estuary Perch fingerlings released into Lake Tyers last week. We get very few reports of EP's taken in Lake Tyers, but we were reminded that this elusive and slow growing fish is hard to catch and it was only 2016 when the last batch were released, not that long ago really.
We have had nearly 50mm of rain recently over 4 days and has provided welcome relief to local farmers, but not really a breaking of the drought. Likewise we expect a bit of runoff into the lake, and some fresh seawater over the bar from the mild storm, but no great change in level.

Easy as you go.

No-Fuss Guss

(www.laketyersbeach.net.au)

7nd Nov 2018: Finally!


An 80cm Mulloway was caught and released by the team from "Reel It In". They captured the moment on YouTube, so unlike other Mulloway catches reported there is no doubt about this one. We doubt it is from the fingerlings, or more catches of smaller Mulloway would have been reported (the growth would have had to have been spectacular, and stayed through a number of openings). But this one certainly has been holed up for about 2 and a bit years as the lake has not been open for that long. Whatever its origins it was certainly keeping in good condition, and congratulations boys on letting that one go!!! Well done!!!

Easy as you go.

No-Fuss Guss

(www.laketyersbeach.net.au)

2nd Nov 2018: Good advice!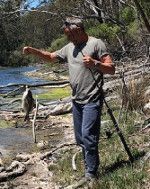 After a chat with me I suggested to Paul to try Trident Arm and he reported back success with old Prawns and hauled in a 34cm Bream on the last prawn. (see left)

A report came in of a large Perch being taken last week. Above the 40cm, so unlikely to be the fingerlings that were released a few years ago, but indicates that the habitat for Perch is OK and maybe we can be hopeful the fingerlings are doing well and will be legal size soon, if not already that size. Very few reports come in for this species.

Contrary reports on Flathead catches which is opposite to last week with indications they are biting much further up the two main arms. They are probably biting wherever there is natural food/bait to bring them on. Keep an open mind.

Easy as you go.

No-Fuss Guss

(www.laketyersbeach.net.au)

1st November 2018: Wide ranging fish activity.


Many reports are coming in highlighting that the fish are on the move. Reports of Bream around the middle of the lake system down to the buoys, and Flathead sightings much lower, even in the shallows near the sandbars. Also plenty of bait-fish being chased by packs of Tailor as well. Though the water level is as low as possible, the lake appears clear and healthy. Weed is a nuisance in some of the more protected coves, but it also provides excellent feed and cover for juveniles. Don't forget the Tavern Fishing Challenge. Well organised and great prizes, with catch and release organised.

Easy as you go.

No-Fuss Guss

(www.laketyersbeach.net.au)
15th October 2018: Lake is warming, fish are biting


The lake has begun to reach that critical temperature when reports begin to come in. Catches of 40cm Snapper around the glasshouse on Pilchard. Trawling for large Tailor has been mentioned, and Bream being taken up above Cameron's Tracks and at Cherry Tree. Hard-body lures have also been popular up around Nowa Nowa. The temperature may have to lift a bit more to get the Flathead stirring to biting stage, but some early catches indicate things are on their way.

I had the pleasure of taking a couple of very special guests out on the water recently and all on board managed to bag a decent fish. Given that this was early in the season, it was a really good effort. A sign of better days to come. Well done folks, fantastic to have you aboard!!

Looking forward to seeing you out on the water, and even more so to meeting you at the cleaning table!

Easy as you go.

No-Fuss Guss

(www.laketyersbeach.net.au)
20th August 2018: No-Fuss Tinny for Sale


We don't run boat adverts here normally, just mention our friends occasionally. But in this case I must make an exception, No Fuss Guss is selling his Tinny for $4000. This tinny has been maintained by Guss so you know it will be in great condition and includes electric starter on the 25hp Johnson outboard, 2 anchors, two additional spare alloy wheels, rego to March 2019, sounder, lights and all boat safety gear (sorry, no PFD's).
Contact Guss direct if you are interested. Mob: 0429 700 024 Click on image for enlargement.
Rob (www.laketyersbeach.net.au)

28th August 2018: Fish are hard to catch


A few reports have come in of successful outings but they have been been sporadic and there has not been much consistency. The fish at this time of the year are spawning and talk has it that, when there is a drought on land, and we are having a "green drought" (ie the paddocks look green but there is very little in the way of true fodder on them), there is a drought in the fishing as well. We have been deliberately not putting up too much here as the stocks that are there, appear to be already under pressure anyway (Pro's, chemicals, Cormorants etc etc?), and we should be patient until the next generation has been spawned before we go after the mums and dads. We should also be giving thought to supporting a slot size for Bream, ie if it is 40cm or bigger, we should put these breeders back in the water. I reckon it has worked for the Flathead, so why not Bream too? After all a good stud breeder does not send their prize bull or ram off to the butchers for a quick dollar.

Easy as you go.

No-Fuss Guss

(www.laketyersbeach.net.au)

24th June 2018: Upper lake for Bream, Tailor are plentiful


Above Cameron's Tracks for Bream and Pilchard in the lower lake for Tailor and Pinkies. Otherwise pretty quiet and conditions demanding even for experienced and usually successful anglers. The Happy Hookers bucked the the trend recently though with nice catches of Bream and Flathead (see Bragboard).

Easy as you go.

No-Fuss Guss

(www.laketyersbeach.net.au)

10th June 2018: Bream still main catch, Flathead still active


Bream have been taking hard-bodied lures and prawn high in the lake system around Camerons Tracks and above. Some have been found around Long point and higher up the Toorloo Arm. Tailor and Pinkies (Snapper) have been going for pieces of Pilchard.

This is the pointy end of the season where the only the best fishers regularly catch fish, so it is with hope we are looking forward to the Twin Rivers Fishing Competition. It is a great event, with great prizes, so consider entering, and we can catch you up there. Only the best will win.

Easy as you go.

No-Fuss Guss

(www.laketyersbeach.net.au)

18th May 2018: Pinkies making someone's day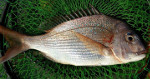 There are still good big Bream actively taking local Prawn, in the 40-43cm range. However at the moment Pinkies around the 35-40cm mark are turning up in good numbers. Try Pilchard early morning or late evening. All the fish are in fine condition and carrying plenty of meat. Large Flathead are also around with Kenneth Jonasson landing an 86cm on a plastic and No Fuss landing an excellent 77cm catch on prawn in the last week or so.
Easy as you go.

No-Fuss Guss

(www.laketyersbeach.net.au)

25th April 2018: Big Bream to be found


The cleaning table was worth a chat the other day when a local fisher had his bag that included two 40cm Bream, caught on local Prawn. No Flathead, but plenty of good Bream. The Flathead have been hard to find since the big competition a month or so ago. However the quieter waters since the Victorian and NSW school holidays have finished to have lifted the Bream catches. Still no sign of rain and the lake is as low as I have seen it for about 12 years. We will require some huge falls if the ground is to soak up first, and then fill the lake.
Easy as you go.

No-Fuss Guss

(www.laketyersbeach.net.au)

10th April 2018: Luderick on the move


If you are into Luderick fishing then there are a few on the bite in the arms of the lower lake on weed. Good catches were reported the other day, surprised us and probably have been off the radar for most people. You will need slightly smaller hooks, set under a float weighted with split shot to maximum sensitivity. Depth of bait can be critical and some experimentation around 75cm would be a good place to start. Weed can be "woven" onto the hook or loosely tied. Weed should be bright green, long and loosely filamentous. A few tugs on the float, and then a dive, should spell success.
Easy as you go.

No-Fuss Guss

(www.laketyersbeach.net.au)

7th April 2018: Activity with Bream improving
Plenty of small Bream around, but bigger ones to make up a bag are also to be found. The lake appears to be in good condition despite very low rainfall. The water level is at its lowest for many years (~10cm on #2 Rule, about 20-30cm drop since October), but the weather has been kind with no real heat waves likely to make the water temperature get too high, causing the oxygen to drop, and consequently causing a major fish kill.

Local baits such as fresh School Prawns from the local trawlers are ideal. Chunks of Pilchard will work with nearly any of the fish. The traffic at the #2 Jetty has dropped off dramatically since Easter Monday, and the water is a lot quieter for fishing.

We are featuring a photo of young Blake again who continues to fish well.

Easy as you go.

No-Fuss Guss

(www.laketyersbeach.net.au)

18th March 2018: Bream are down, but Snapper up


Snapper have been the highlight over the last fortnight. Serious fishermen (aren't we all serious?) have been struggling to make good Bream catches and the Flathead have gone a bit quiet as well. However local prawn and Pilchard around the end of the channel markers and at the east end of the lower lake have been yielding 40cm+ Snapper. These maybe a cohort that have been trapped inside for the last 21months, and probably arrived as medium Pinkies when the lake was tidal. There has been a considerable build up of windblown sand on the inside of the sandbar, however the water that was really murky a fortnight ago was as clear as crystal today. If you hook up a Trevally, as one young lad did, be prepared for a good fight! Half-peeled local Prawn has proven effective in other local lake systems.

Easy as you go.

No-Fuss Guss

(www.laketyersbeach.net.au)

3rd March 2018: On track for record Flathead year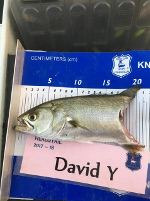 Flathead have again been reported most in catches. People have bagged out, people have caught PB's, and others happy with a decent keeper. However Bream have been harder to come by. The fact the lake remained closed last year has seemed to have reduced Bream activity. There still plenty going on though, with Tailor around as well. Many of these fish are going to have to survive at least until the middle of the year before they might be able to exit the lake, so presumably continue to grow. There is evidence of a larger fish than usual being trapped inside over summer. Thanks to David for this one (left). Speculation is that it is a big trapped Mulloway, though others have said maybe a Seal (bite too clean and none have been sighted or heard?). Anyway using Pilchard along "gullies" on the bottom lake, and Blackfellows Arm, and on the drift, has been very successful with Flathead, it even bagged a 40cm Pinkie. Local trawler Prawns for bait have been hard to come by, but should improve closer to Easter.

Easy as you go.

No-Fuss Guss

(www.laketyersbeach.net.au)

13th February 2018: Lake is fishing well

There have been many reports all over the lake for good fish. Fishing early morning, or later towards night is a good variation if you are struggling for a catch.

Plastics for Flathead, and bait for Bream perform well, with the space between boat and shoreline giving good results for Flathead. Chasing up local fresh green Prawns, eg off the trawlers in town, will be better bait for Bream than commercial products.

There are plenty of Tailor around as well. So be prepared to up your leader strength if lose a fish quickly after a short run.

Easy as you go.

No-Fuss Guss

(www.laketyersbeach.net.au)

28st January 2018: Myth is "BUSTED"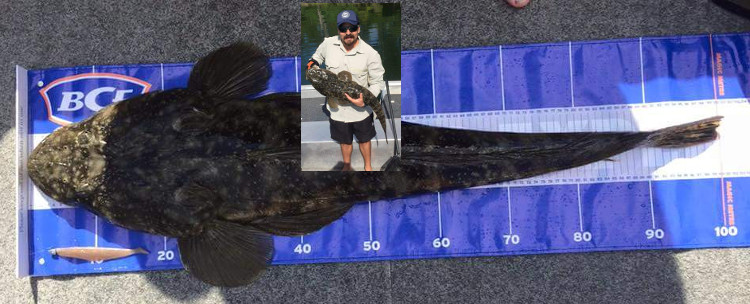 There has been a lot of talk about the existence of really big Flathead in Lake Tyers, and this photo above should settle the arguments. Matthew Thewma has cracked it and landed a "magic monster" just over the 1metre. This is a grand old girl and thanks to his careful treatment should live to fight (and breed!) another day. Generally the Flathead have been reported as the most frequently caught. The boat ramps have been very busy so things have been pretty churned up. If you prefer a quiet fish then it may be best to hold off, until the weekend is over.

Easy as you go.

No-Fuss Guss

(www.laketyersbeach.net.au)

21st January 2018: Fishing is a family affair

Things have been hotting up down here and all over the state. Just to show fishing can be a the best family fun, I suggested to Blake's Dad that Flathead don't just bite during the day, and maybe he should try a spot of night time fishing.

As a result Dad landed this 80cm in the dark. Nice angling!!!

There has been plenty of activity at the cleaning table over the last fortnight. However, no kudos to the people who cleaned a Bronze Whaler at #2 yesterday and just chucked major junks of the carcass out into the water out the front of the cleaning table. Just a reminder, the Pelicans will not eat this and Lake Tyers is not tidal, so this waste will hang around for a long time.

Easy as you go.

No-Fuss Guss

(www.laketyersbeach.net.au)

Looking for a well run Angling Club to join that has a great social side, as well as good comps that go up against teams from across Gippsland? Well have a look at the
Lake Tyers beach Angling Club's program for 2018.
11rd January 2018: Flathead and Bream abound

Well we are off and running into the 2018 Fishing Year.

Sharing a yarn about fishing in the Tavern, I got talking to Blake Cameron and his dad. Young Blake landed 45 cm on soft plastic in front of the Tavern! His family lives in Seville (Yarra Valley). This was Blake's personal best (what a way to start!) and just prove it was not fluke he went out and caught a similar Flathead the next morning. (See Brag Board).

Other catches of Flathead, both keepers and monsters have been reported both on bait and lures. However be careful about the bait, especially Prawns and see if you can source the genuine local specimens. They should be a bit bigger and worth the little extra.

Easy as you go.

No-Fuss Guss

(www.laketyersbeach.net.au)

23rd December 2017: Bream are on the move.
Good catches of Bream are coming in. Not all are taking bait with some of the lure specialists indicating they are as effective as bait. The lake is still as low as it gets, though the water has not got too hot, with a pretty cool Christmas and New year (30mm rain 2 days ago). However it is possible, in the upper reaches shallow water maybe low in oxygen as it warms up.

We wish all our readers a happy and prosperous New Year, tight lines.

Easy as you go.

No-Fuss Guss

(www.laketyersbeach.net.au)

We were greatly saddened by the passing of Loraine Frances, Guss's wife. Her recent passing was totally unexpected, though she had been ill for a few months before hand. Lorraine was a good fisher and in any of the competitions that we were in, she held her end of the bargain, catching good sized, very competitive fish. Though she would remind us Guss was her best catch.
The community here at LTB is going to miss her infectious, irreverent humour and generosity. She is greatly missed and we extend our sympathy to Guss and her loved ones.
The LTB team.
3rd November 2017: Things are looking better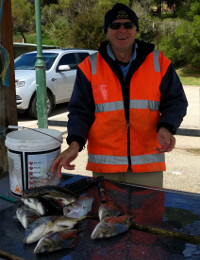 Reports are coming in that a broad range of fish are on the move and starting to shrug off that winter sluggishness. Flathead and Tailor have been reported in the Blackfellows Arm, and Tailor and Bream up as far as Devil's Hole, with some success using a cocktail approach to bait, eg Prawn and Sandworm on the one hook. The temperature is on the rise, as we would expect, and local seasonal rains have added a little cloudiness to the water making sneaking up on them a bit easier. However this is the spawning season, so you may see big numbers on the sounders, but to be honest they aren't thinking of feeding ATM. However quite a few big Flathead continue to be landed (Nick the Painter got a 65cm off the #2 Jetty), so keep you hooks sharp, and lines tight.

Easy as you go.

No-Fuss Guss

(www.laketyersbeach.net.au)

Pictured left is Colin Hanner with a catch from a morning run today, with a handy feed of nice Bream. (Lake Tyers Beach Charters)

6th October 2017: Low turn out

Well the boat ramp car/boat parking at Number 2 Ramp told the story. Hardly more than 3-4 trailers per day in it over the September school holidays. One quick sortie up the Toorloo Arm proved fish-less on the 1st Oct. However on the return Journey we mapped the surface temperature of the lake back to the boat ramp.


This shows the temperature just up past Long Point was about 17.5C and fluctuated on the way back, down to about 15.6C across the main lake, and returning to about 17.3C at the boat ramp. Quite some ups and downs. Given that this is the type of sampling that boats read on their sounders it makes one wonder what use it is generally. Anyway we will be looking for better weather and more consistently higher lake temperatures before things begin to move. No opening this winter so things will certainly be different this year.
Easy as you go.

No-Fuss Guss

(www.laketyersbeach.net.au)

25th September 2017: Fish still elusive

We are struggling for decent rains at the moment. It looks as though the lake will stay closed this winter/spring. However this illegal netting incident, where local fisheries officers apprehended 3 people using a 22.5m mesh net, shows that there are fish moving around the lake. Significantly though, most of the Bream netted look just size to a fair way under. This lines up with other reports that under size Bream are about the only ones active at the moment. Isolated catches of good Flathead have occurred, but often this is the single catch of the day.


Remember you can help our Fisheries Officers protect the lake by putting their 24/7 hotline 133474 (13FISH) into your phone. Easy as you go.

No-Fuss Guss

(www.laketyersbeach.net.au)

3rd September 2017: Cloudy water needed

There has been a slight increase in cloudy water around. Without serious rain the water is going to remain crystal clear, which is a good indicator of the health of the lake system, but means fish are easily spooked. So stealth is main strategy, either very early mornings, or being prepared to stay out near dark, no noisy anchor launches, use the electric motor to position, and long casts from the boat or bank. If you don't have much luck on the lake, guest tipper Paul, has said the Salmon are on the bite in the surf on lures that only need be cast with a Bream rod for good success. The temperature is still only just above 10 degrees. Rob has completed his trip up the lake measuring the temperature, so check out the Lake Temperature Profile. Easy as you go.

No-Fuss Guss

(www.laketyersbeach.net.au)

14th July 2017: LTB Trailer parking nearly empty

Twin Rivers Competition this weekend. Preliminary investigation of Tambo River, on Wednesday, at the mouth and above the bridge with prawn and spider crab only proved the fish will be hard to find this weekend. There has not been any significant storms and subsequent rainfall for about 5-6 months now, and the waters are clear, and only really running significantly with the tides. Previous years, with murky sediment laden water, is just not happening. Likewise at LTB, the lake waters are very clear, plenty of Mullet fry in the shallow waters and temperature at #2 Boat Ramp is 7.8ºC (Interestingly the water near Reeves Channel, off Kalimna, is about 12ºC). Easy as you go.

No-Fuss Guss

(www.laketyersbeach.net.au)

26th June 2017: Hard to pick a good day

Scattered reports of catches some with Flathead and some with Bream, mainly with bait. Very hard to see any trends at the moment, though fishing later in the evening around dusk, and the bank appears as good as a boat, up the Toorloo Arm. Easy as you go.

No-Fuss Guss

(www.laketyersbeach.net.au)

18th June 2017: A few a still givin' it a crack

Positive reports are thin on the ground at the moment. The weather's cool, the fishermen are getting choosey, and the fish are even more indecisive. Even on a fine day like today, clear sky, chilly wind, only a few brave souls have put in to try their skills. They will need to be canny and patient as the fish are mouthing baits and even when taking bait for a 'run' are more likely to drop it, than get hooked. The water temperature at #2 dropped to 8.88º C since a fortnight ago. Easy as you go.

No-Fuss Guss

(www.laketyersbeach.net.au)

4th June 2017: Cooling off....
The lake temperature is cooling quicker and the fish are harder to tempt. The water is extremely clear with no significant rain to bring down tannin-laden catchment water. The days are short and the algal blooms are all gone.

Catches are being reported by the fishers who are keen enough to fish the evenings, but mainly up the arms. Smaller Flathead are still being caught.

Photo left is a 42cm Bream caught just on dark with bait near Pile Bay. Lower down in the main lake is pretty much a waste of time, however I am happy to be proven wrong.

Easy as you go.

No-Fuss Guss

(www.laketyersbeach.net.au)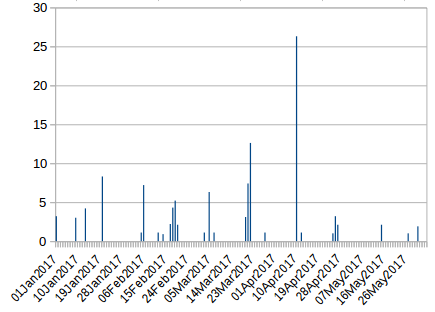 Just for interest's sake: Rainfall at LTB first half 2017. Not good!
17th May 2017: Experts required

"There are still good fish in the lake". This could be just wishful thinking on our part but people have said that they are getting good fish, Flathead and Bream, and with quite a bit of interest in Pinkies. However the comments are usually pretty guarded and difficult to tease out on detail, through to one incredible bragger who said his brother caught 1400cm Flathead in the lake. Our own experience last weekend would suggest they are very hard work to find, and then catch. The lake is teeming with bait fish and the water is very clean and healthy looking, so it is hard to to tempt them in that paradise. Don't forget the Twin Rivers Comp' is coming up on the weekend of July 15/16. Easy as you go.

No-Fuss Guss

(www.laketyersbeach.net.au)

6th May 2017: Slowing down, but good fish still there

Chasing the bigger Bream is possible even though the temperature of the lake is dropping. Some jaw dropping sized Bream have been reported. We were reminded this week of our readers when an avid follower caught up with me at the Tav'. Neil and Allan got some nice Bream and Flathead last week and a huge Tailor. They have had a good time and will be back in August. We hope to catch up again folks! Don't forget the Twin Rivers Comp' is coming up on the weekend of July 15/16. Easy as you go.

No-Fuss Guss

(www.laketyersbeach.net.au)

23rd April 2017: Snapper are an option
People are picking up Snapper on Prawn near the channel markers. Bream are around, and you are just as likely get one of those, but they do seem to have dropped off. Flathead are still taking standard baits like Prawn. However the lake is full of food at the moment and trying different baits such as Spider crab may give you the edge. This Snapper was given to a fellow fisher man at the cleaning table, and in another act of kindness one bloke took time off hopping into his waiting boat to give an elderly couple help to retrieve their boat. Nice to see folks. Easy as you go.

No-Fuss Guss

(www.laketyersbeach.net.au)

22nd April 2017: Prawns are still around

Walking back from the Tavern last Friday night I was pleased to see 4-5 prawn lights around the lake. There must be still a few around. We don't often report on the Prawns, and last time we heard they were not very big, but that was a few months ago, they must have grown since then. Now that the Easter full moon is on the wane it might be time to get out the net and light and see if we can find a feed. However the bumper catches in recent seasons after the Prawn release experiment seem to be over. Easy as you go.

No-Fuss Guss

(www.laketyersbeach.net.au)

11th April 2017: Lake is healthy and ready for Easter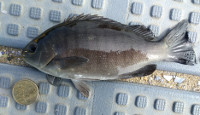 Plenty of small fish taking (pinching?) baits with Prawn and Mussel producing results in most parts of the lake. People are reporting good catches as far as Devil's Hole and Toorloo Arm Bridge. Left, a small Luderick caught by young children chasing tiddlers for practice. These boys were learning quick, and the Luderick were looking healthy. All fish were returned to the lake unharmed. Easy as you go.

No-Fuss Guss

(www.laketyersbeach.net.au)

2nd April 2017: Flathead mainstay

Flathead are on the bite from Blackfellows Arm up to Crystal Bay on trolled Prawns. Bream plentiful but small, and it is hard work to get serious fish. The Reel it in Flathead Challenge Competition last weekend yielded some magnificent fish and some fierce competition. Check out their Facebook Page, I have and they were awesome! The comp was catch and release so all those caught should still be out there in the lake for you to find. School holidays this fortnight, followed by Easter so you might be struggling to find a quiet spot if the weather is good. Easy as you go.

No-Fuss Guss

(www.laketyersbeach.net.au)

20th March 2017: More fish, in more places

Bream, many small but good ones among them, are on the bite around Blackfellows Arm up to Long Point. Flathead are around the shallows in the main lake. Lure fishers have been reporting consistent Flathead results this season. Luderick with Sandworm on the right set up is also working around the snags. Other species that have made their way in have also been caught in small numbers, such as Leather Jacket and even a John Dory caught by a dog! People may also be interested in Wayne Thorpe's Booklet on the lake and benefits of natural openings. Easy as you go.

No-Fuss Guss

(www.laketyersbeach.net.au)

2nd March 2017: Is the tide turning?

Garry (from the Bannockburn Angling Club) is showing the way here with a tidy catch of mainly Bream and some Flathead. Lake Tyers and other popular lakes such as Sydenham Inlet and Tambo Inlet have been slow to kick the summer season off. It has been reported by experts hard work to get a decent catch. However it looks as though the season may just be beginning. Local reports in the last few days would suggest an upturn and it is time to get hooks sharpened and get into them.
Easy as you go.

No-Fuss Guss

(www.laketyersbeach.net.au)

22nd February 2017: More people catching more fish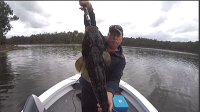 Our good mate Rowey (from the Happy Hookers Angling Club)has been down with a few friends and landed a 85cm Flathead. We have the other photo on the measuring mat so we know it is no bull!! I went out with my mate Trev' the other day and got onto Bream with Trev' on a PB with four nice Bream, and I caught two Tailor, a Flathead and ten Bream, all on local Prawn and Pilchard. In all the lake continues to fish well and when some of the wild weather quietens down, should be Ace! Easy as you go.

No-Fuss Guss

(www.laketyersbeach.net.au)

11th February 2017: Good results across the lake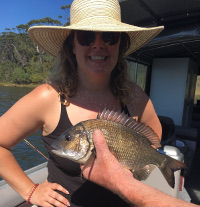 Plenty of fish being caught, with Bream in fine form, with smallest to largest aggressively taking baits, notably up around The Island. Flathead, Eel and Snapper have also been found there as well. Flathead are active again around the lower lake drop offs and working well on lures. Other spots to consider are Whelans and Long Point where Bream have been active.

Simone (left) has landed a good sized Bream recently at Fisherman's Landing.

Easy as you go.

No-Fuss Guss

(www.laketyersbeach.net.au)

4 February 2017: Lake has quietened down and still fishing well.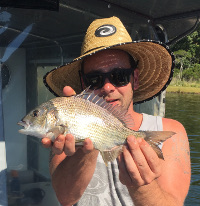 A couple of nice Bream catches to report this time, David Ray and Colin near fishing man's landing David's Bream 40cm caught on peeled Prawn. An excellent catch and without having to go right up the lake to catch them.
Easy as you go.

No-Fuss Guss

(www.laketyersbeach.net.au)

28th January 2017: Plenty of action on Flathead and Bream

Flathead have been the most talked about, but Bream are also there for the taking as well. However results can be variable: Wife and Husband in boat together. Husband nearly bags out on Bream and Flathead and wife has only one "just size" Bream. Wife is a local champion fisher! A bad day can happen to even the best of us.
But if you are going out anyway, here are the tips. Around the Glasshouse area for Flathead in a metre or less and along the banks and drop offs, and around The Trust below the power lines with Pilcahrd. Best on plastics. Bream from Fisherman's Landing up to The Island. Bream on peeled Prawn and Pilchard. Fair few small but good catches reported of larger fish. For those of us who will be around after this holiday weekend, the fishing is bound to improve when the mass churning of propellers calms down.
Easy as you go.

No-Fuss Guss

(www.laketyersbeach.net.au)

7th January 2017: Good results across the lake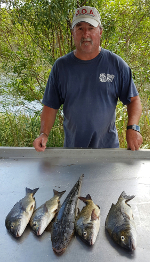 The year has got off to a fine start with many people taking good catches. Welcome back and I hope it is a good one for you too.

This haul was picked up by myself and Maurie on Thursday. As usual the local Prawn produces regular results and these were taken from around the Trident (50cm Flathead) and Fishermans Landing.

The weather is improving and people have been getting good Bream around the Nos2 Jetty late afternoon. Evening fishing with bigger baits, eg chunks of Pilchard and more rugged rigs will give you some decent sport with the Tailor that are frequenting those areas.

Easy as you go.

No-Fuss Guss

(www.laketyersbeach.net.au)

31st December 2016: Good year behind us, good things to come!

We hope you you have enjoyed our 2016 year of fishing tips and news from Lake Tyers Beach. Just to finish off this year and give you a head start in 2017: Good Flathead have been taken midway up near Reedy Arm, Pirates Bay (aka Bulmers) and right down to the Glass House. Baits used at the time were local Prawn and chunky Pilchard. If the wind is light, then a slow drift along an edge is good to cover more ground, and hungry fish lurk around drop-offs. Reports of good sized Bream around sandy areas and same drop-offs.

And remember we keep all our tips over the last 7 years online, so you can check back historically for the same time of year for more inspiration. Rob and I wish you a safe and prosperous new year, as they say, "Tight lines!" and easy as you go.

No-Fuss Guss

(www.laketyersbeach.net.au)

15th December 2016: Lures and bait working well on Flathead
Things are shaping up well for the Christmas/New Year holidays. I have invited guest tipster Phil' from the Tavern to share what he has heard lately. According to him: "The Flathead are biting well on both lures and bait. There are some big ones around, so don't be afraid to put on big hooks, 15lb leader and chunky baits such as strips of pilchard or even whole banana prawns. You won't be annoyed by having to de-hook tiddlers, and you will be in the running for a Whopper!!" Joe has landed another recently, (see left and Brag Board) and you might just catch him at the Tavern as well. Not only can you catch up with Phil' about the latest fishing news, but you can enjoy a beautiful frosty glass of your favorite brew at the same time. Take care, have a happy and safe festive season and easy as you go.

No-Fuss Guss

(www.laketyersbeach.net.au) (PS see you at Santa-Time Dec 25, 11am Tavern).

Have you seen people keeping
Flathead
less than 30cm, or bigger than 55cm? Dial
133 474
or
13FISH
20th November 2016: Bait, and along the edges did the trick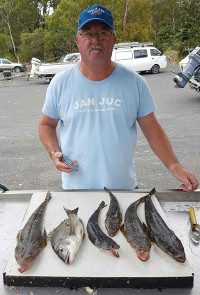 Finally got out of the big smoke and back to LTB and caught up with a few mates. As I have been reporting, things are steadily on the improve and I managed to bag a few nice ones myself. Bait fishing with local prawn and slices of pilchard fished along the banks, in shallow water bought consistent results.

The banks from The Island down to the main, bottom lake were producing good sized Flathead and Bream. Catches of oversize Flathead are continuing to be reported and the slot size restrictions ie "55cm and over goes back" seems to be paying off with many anglers getting to up their PB's, by pitting their skills against an LTB monster. As well as keeping the breeders in the lake!! Handle with care.

Take care and easy as you go.

No-Fuss Guss

(www.laketyersbeach.net.au)

Reminder:
The
Waterwheel Tavern
is holding its
Annual Fishing Challenge
on
23rd-26th November 2016. Check their website for all details on registration and activities.
Fisheries are also offering Prizes for any
Mulloway
that are caught, photographed and released.
20th November 2016: The lake is fishing well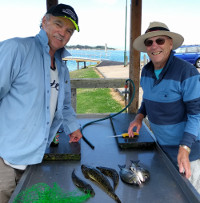 Matty at the Tavern should be confident there will be good fish caught in the Comp' next week.
Good catches of Bream and Flathead are being taken, though the more competitive locals are not sharing too much detailed information and are unusually tight lipped at the moment. There are plenty of boats around.
The mouth is open and strongly tidal, still keeping the lower lake in fine condition. There has not been much algae around tangling lines etc
One catch of an Octopus large enough to be cooked (well done Tommy!) was reported last weekend. These blokes (opposite) caught a handy feed this Sunday, fishing higher up, out of the wind. Well done guys!
Take care and easy as you go.

No-Fuss Guss

(www.laketyersbeach.net.au)

13th November 2016: Consistent Flathead can be found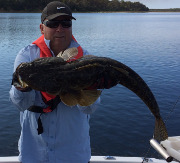 Joe has landed another excellent Flathead last week and has generously shared this photo with us. Joe likes the lures, plastics in particular, and has been doing well with the occasional thumper of a Monster. This fish was handled correctly and returned safely to the water. We have heard reports of selfish people in last year's season who did not comply with the Law and kept Flathead over 55cm. These fish are invariably breeding females and provide the next generations of Flathead. These girls do a better job than any fancy fish hatchery - if we look after them! So please respect the little Aussie breeders and give 'em a fair go to keep our recreation sustainable. Take care and easy as you go.

No-Fuss Guss

(www.laketyersbeach.net.au)

29th October 2016: Bream in top end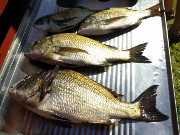 Bream are to be found in the upper half of the lake. Don't worry about the brown tannin coloured water. Maybe easier to launch at Nowa Nowa and come down rather than take the long trip up the lake. Jillian (staying at Frank's Place) caught this bag with his family and friends on the Melbourne Cup weekend. Recent storms have freshened up the lake opening and it will probably stay open until Christmas. The water quality is excellent and the summer break is looking very positive. Take care and easy as you go.

No-Fuss Guss

(www.laketyersbeach.net.au)

23rd October 2016: Flathead are improving
The Flathead are beginning to come on the bite with good catches being taken by the keener anglers. The temperature of the water in the lake is still a good bit below the lower end when fish begin to become more active. However people like Joe (opposite) who regularly go after Flathead with lures do quite well. A combination of local know how and skill! Take care and easy as you go.

No-Fuss Guss

(www.laketyersbeach.net.au)

2nd October 2016: Good catches coming in
There some good reports of very healthy Bream being taken in the Lake at the end of September. The water in the lake in lower part of the lake is very clear and in great condition. Rowey and friends from the Happy Hookers had a day out on the Bream and checkout the Brag Page for the full photos. Similarly the Cooper family hit the right spots with some very handy Bream and Flathead catches. People have felt the lake has been a bit slow recently, but these reports indicate that things are about to change. Again check the Brag Page. For those without boats and have enjoyed the jetty at Nos2 Boat ramp, will be pleased to hear the new Jetty is quickly taking shape and will be a goer for the season in 2017. Take care and easy as you go.

No-Fuss Guss

(www.laketyersbeach.net.au)

26th September 2016: Signs are things are on the way up
There have been encouraging catches of Flathead coming in with people having success. Our featured anglers this week is Sharni Fudge with a 64cm Flathead on a vibe. Great experience for a young angler. No doubt dad's advice was a great help as well. Hopefully the sunshine in that photo is on the increase and the temperature of the lake will be rising. I may have been a bit hasty saying the lake might close soon as recent rains and surf activity have it pretty wide open at the moment. Many of the fish are spawning around now so take care with your catches, and return prospective breeders (after the photo of course!!) Take care and easy as you go.

No-Fuss Guss

(www.laketyersbeach.net.au)

23rd September 2016: Highway report!


More a traffic report than a fishing report! There is now a temporary single lane bypass beside the old Princes Highway path that provides a sealed road access from Lakes Entrance to Lake Tyers Beach, Orbost and beyond. Vehicles towing boats will find it easy going, as it is gently sloped and with regulated 24/7 traffic lights. When you drop into the Lake Tyers Beach Shop to get your Lake Tyers Fishing Map, you will see that once past the roadworks all the western access roads into Lake Tyers are still available. The Lake has had about 100mm fall at LTB over the last two months, but with the lake still open, well - just open, the level has not risen. The water quality is good, and the lower number of visitiors fishing fishing recently, should mean there are more for those who make the effort! Take care and easy as you go.

No-Fuss Guss



1st September 2016: Very quiet!


Reports from some experienced anglers are that the fish are not biting and quite hard to catch. People were having some success on Clickers a few weeks back, but reports were scattered and not easily cross checked. However more recent reports has indicated Mussels are definitely worth a try as they have been pretty hot in the Tambo and Nicholson. The road works on the highway between Lakes Entrance and the Lake Tyers Beach turn-off are underway to fix a major subsidence problem. People coming from Nowa Nowa to LTB won't really care, however all other traffic (including big busses!) are being redirected from Lakes Entrance to LTB via the old Bunga Road. While not difficult it adds about 15 mins each way to LE, a real pain! If you are towing a boat, take your time and you will be ok. Take care and easy as you go.

No-Fuss Guss



30th July 2016: Good ones around
"Rub it in Rowey" has landed a very good Bream (see photo, 42.5cm) :-) Seriously though, nice one Rowey, well done. At this time of the year this is a premium fish. The sharper readers will notice that it was taken on a red vibe and that maybe essential at this time of the year. Generally it has been hard work to get decent sized fish, but they are around for the persistent! The lake is flushing well with clear water extending as far as The Island. We may see a return of the other species such as Leather Jackets, KG Whiting and Snapper next summer season. Not to mention Mulloway and Estuarine Perch that have been released last summer season. Take care and easy as you go.

No-Fuss Guss



24th July 2016: Not easy, but good fish possible


Reports have been slow coming in as the fish are not very active, but for the persistent and patient anglers there are good Bream around. In the Toorloo Arm, around the middle to upper reaches and across to the East around the Glasshouse, and also near the channel markers where the tidal effect is strong. People have found that vibes are effective and have taken a few large Bream (>40cm) with them. However others have returned empty handed, so expect to work hard for any catches, but if you do catch one, you could be handsomely rewarded. Take care and easy as you go.

No-Fuss Guss



19th July 2016 : Very Heavy Rains and fishing hard going


The lake has opened and is now tidal again with a natural breakout occuring on 7/7/16. The entrance is quite wide and good flushing is occuring. This is quite early as seasons go , so we may see another opening before Christmas.
The Twin Rivers Bream Comp' was very enjoyable, though somewhat cold in the mornings!!! Many good fish weighed in, but not by my team. We tried all three rivers, the Mitchell, Tambo and Nicholson and the lake system but without finding any big ones. The flood conditions had made things very hard to read, and the people who caught good fish did very well indeed. Take care and easy as you go.

No-Fuss Guss



11-12th June 2016 : Local Fishing Club Competition

Two clubs competed on Saturday and Sunday, The Port Albert Fishing Club, and my club, Lake Tyers Beach Angling Club. The visitors were the winners, but a very good comp' was had by all. Weather was challenging on the Saturday. The visitors were using Clickers (or One Armed bandits) and had great success up around the Island. The less fortunate anglers were pestered by huge numbers of very energetic small fry. 11anglers weighed in fish totalling 44 Bream and 2 Leather Jackets. Overall Port Albert won the comp, we must try harder next year. Take care and easy as you go.

No-Fuss Guss



30th May 2016 : Parking area near ramp nearly empty on Saturday


Things are very quiet on the lake at the moment. People are still catching fish, but winter has settled in and more challenging in general. Recent success for Jillian between The Island and Cameron's Tracks with local prawn and netting both good Bream and Flathead. Try earlier in the morning and along the banks and shallows. Hope to catch up with a few of you at the Twin Rivers Bream Classic. See you there. Take care and easy as you go.

No-Fuss Guss



14th May 2016 : Fishers very active on Lake


There were boats everywhere today on the lake. Best Bream catches were taken early in the morning, with most catches getting smaller, and smaller as the day goes on. Plenty of small ones stripping bait, so take plenty. Half peeled prawn was the most successful. The cooling waters appear to be reducing Flathead catches, though many small ones are around last week. Fishing the shallows (warmer?) around inlets near the Trident produced good fish. Plastics will also work with Bream as well as Flathed. The lake is very clear and in beautiful condition. Take care and easy as you go.

No-Fuss Guss



News
has arrived that Mulloway released as fingerlings October last year have been caught just below legal size of 60cm. The local fishing club is helping collate scientific information on catches (and releases) of these fish in Lake Tyers.
Please
visit this page
if you land one, as your help will be greatly appreciated.
2nd May 2016 : Season not quite over


Around the end of the Channel Markers, Glass House and the bays into Fisherman's Landing have been providing good Bream action. Around the Red Cliffs down from Pirate Bay are yielding good sized Flathead. The temperature of the lake is dropping quickly now and if you were thinking of fitting in one more fish before the winter break, this maybe the best opportunity. The Autumn weather has been delightful with many days for good boating and fishing. Don't forget the surf fishing is also easy access at LTB and well worth a try if sitting in a boat all day doesn't spin your propeller! Take care and easy as you go.

No-Fuss Guss



15th April 2016 : Quiet, but good fishing


Bream keepers around the 30-34cm mark are across the lower lake with Flathead being picked up over near the Glasshouse and the drop off alongside the sand flats and the Mud Islands. Recent rain has not made much difference to the water levels, but it has freshened up the local water and campsites.
Take care and easy as you go.

No-Fuss Guss



1st April 2016 : Lake is healthy and plenty of fish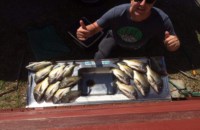 Good bags of Bream on local Prawn being taken with anglers revelling in the warmer water and active fish. Use 1/0 to 2/0 hooks if you don't want to be taking small fry off your hook all the time. They will be hammering your bait so take plenty. The last few days of Easter holiday were dampened by 25mm of rain. However people down for the school holidays are getting some sunshine now. Try the banks and shallows in the bottom of the lake with lures and plastics for some good Flathead. Jillian makes our photo opportunity this week with a good haul of Bream taken at Easter time.
Take care and easy as you go.

No-Fuss Guss



25th March 2016 : Big catches around, but not for everyone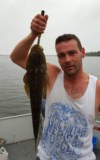 The Easter season is showing good catches of Bream, with warm water fishing is good across the lake. Dave Ray, Colin and Cal did well fishing Labor Day weekend with Bream up to 35cm plus Flatties. In 3 days they managed 35 fish on the party boat, mainly Bream but we will feature a "keeper" Flathead in the photo. Local Prawn and Pilchard are still the popular baits. I hope you have a safe and productive Easter holiday, and don't forget all your safety gear as the Water Police are active at this time of the year. Take care and easy as you go.

No-Fuss Guss



Check out
Lynton Barr's comments
on the Licence Fee rise.
9th March 2016 : Big catches around, but not for everyone


The Happy hookers angling club had there comp at Lake Tyers Beach last week end the weather was perfect with excellent fishing. Some very good fish landed the comp winner's were Nick Hume Friday 70cm Flatty, Luke Hume Saturday 41cm Bream, and Sunday Frizzle 60cm Flatty. The Jetty at Number 2 is being replaced. Catches of Flathead around Crystal Bay, Glasshouse and Blackfellows Arm. Check Joe on the Brag Board for his monster. Take care and easy as you go.

No-Fuss Guss



29th February 2016 : Weather and fishing are both good

The lake is in tip top condition and while at a seasonal low is still popular with anglers. One of the highlights reported in to me was a catch by Pauline from Geelong. She caught a cracker 83cm Flathead and demonstrates the best way at the moment to handle a monster Flathead and get it back to the water with the best chance of surviving. We also have had visits from the Torquay "Oldies and Youngies" a fortnight ago and the "Happy Hookers" last weekend. Both groups had a good time and took home some very good fish. Young Damian (the Publican) from the Nowa Nowa Hotel has reported good Flathead in the Nowa Nowa end of the lake in the shallows flicking plastics from the banks. If you want any further details drop in for a chat. Take care and easy as you go.

No-Fuss Guss



13th February 2016 : Plenty of activity

Plenty of fishing boats and good fishing going on here at Lake Tyers. Car park full and cleaning table busy. Apparently Pilchard has replaced local Prawns as the bait of choice at the moment. There are good Flathead to be had, and try inside the curves of bays. There are plenty of undersized Bream around, but in between good fish if you are patient. Recently had a post from Jack Crooks who caught this Estuary Perch on a Z-Man Grub in Black Fellows Arm. Certainly not one of the recently released fingerlings (they don't grow that quick!) but a nice indication of what we hope to see more commonly happening at Lake Tyers over the next few years. Nice work Jack. Take care and easy as you go.

No-Fuss Guss

PS Sorry about the absence of a recent tips page update as my mate Rob, who posts these for me, apologises to you all as he had been called away for a while on family matters.

26th January 2016 : Mixed Results

There have been various reports around, some people people have found their favourite spots have been stirred up by the high level of long weekend boating traffic and are finding the fishing quite difficult. Others, around Fern Bay for example, have been taking Flathead, Bream and Tailor. As a result it may be time to try some spots high in the arms, above the 5kmph signs, and look for quiet spots along the banks. If you believe the motors stir up the natural berley, then maybe alongside the channel markers is for you. Take care and easy as you go.

No-Fuss Guss

PS Hope you have a safe and enjoyable Australia Day!

9th January 2016 : Lake in tip-top condition


The streak of bad weather is over and with good weather comes good fishing. On our outing today we caught Bream and Flathead, just missing a monster (got him to the top of the water for a look and he snapped the line :-( ) . Tailor were also in abundance and making a mess of light rigs. Other catches were Trevally, many of very good size, and the occasional Leather-Jackets. The lake is crawling with Garfish as well and they can be tempted with small bits of Prawn. The Garfish are fairly small and maybe a more reasonable target in a month or so. Good catches of Bream have been reported by others in the middle 30's to lower40's and plenty of Flathead in the keeping zone (>30cm and <55cm). Prawns are reportedly running enough for the keen fishers. Take care and easy as you go.

No-Fuss Guss