(Keepers Tackle

- where your catch is what matters

)
A no-nonsense digest of the fishing trends
at Lakes Tyers from those in the know!


The Lake Tyers Fishing Report


Check Ocean Lakes Cabins for your mates' next trip.


Local Fishing Supplies
All types of fishing gear for
the local waters
-=o0o=-
2012 Archive
As many of you would know Pagey has provided excellent advice to the ardent angler at Lake Tyers Beach, covering the fishing opportunities in the lake, on the shore ,and in the surf. However time and experience has meant that this fishing afficionado has moved on, and left behind a mine of information of fishing trends over the last few years. We provide this stored commentary as a tribute to Ian's knowledge and experience of the Lake Tyers Beach fishing environment and wish Ian all the best in his new fishing endeavours to the north of us on our major Murray River.


30th August 2012: Fish to be found
With wild weather we have not had many anglers venturing to Lake Tyers over the last week but those that did were not disapointed,with the Bream heading to spawn there has been many quality fish on vibes and Prawns. The Flathead will appear at some stage in September when the water temp stimulates their metabolism and they travel back to the main lake. The surf has been good lots of Salmon on both lures and bait - not big, but still good fun. Pagey@ keepers bait & tackle

13th August 2012: Winter on the Wane...
Winter nearly over - good weather on the way: Those that fished over the past couple of weeks dark vibes high up the system are trapping good Bream and the odd Flathead bait a little slow best still Prawn.
The surf is only seeing small Salmon on Bluebait and Squid, but results are patchy.
Lets hope we get good weather in the next few weeks get the water temp' up and let the action begin.
To all those that fished our comp last year I look forward to seeing you again. Pagey@ keepers bait & tackle

16th July 2012: Yellow Fin and Black Bream
The best weather in the state saw anglers have a ball at Lake Tyers over the past week. Yellow fin bream have been prominent taking vibes and lures since the lake opened, with our black bream in good numbers as well and plenty of size. Bait anglers using prawn and spider crabs are getting results.
The surf is seeing Salmon on Bluebait , Squid and lures, while not big there are good numbers.
Take advantage of the mild winter and venture down for a few days R'n'R,
so get out and get amongst them
Pagey@Keepers
bait and tackle .
2nd July 2012: Bream are active and biting
With great weather and few around this past week, the ones who did arrive had some good results with the Bream starting to become very active and aggressive, taking vibes, plastics and both Prawn and Spider Crab they seem to be all over the system from around the channel markers to the Trident and above. The flathead are quiet and will be up the top of the lake. Try a pilchard with little weight and keep the bait moving and you should pick up the odd one.
The surf was great the last few days with Bluebait best some nice Salmon, Tailor and the odd Bream on the surf (yes you heard right) a first for me but there was more than one. Lures continue to get Salmon with plenty of birds diving to show you where the fish are. So take advantage of the good weather we have during winter and especially the school holidays with some good accommodation available (
cabins
or
house
),
so get out and get amongst them
Pagey@Keepers
bait and tackle .
16th June 2012: Lake bounces back quickly
Didn't take long for Lake Tyers to fire up again with Bream taking Prawns and Pilchard around channel markers in the bottom of the lake and a few Flathead as well just as a bonus. As the water clears daily it will only get better over the next few days with Tailor, Salmon and Yellow Eyed Mullet in the channel as the tide runs it make for good fishing. The surf has already cleared and some good Salmon and Bream on Bluebait near the entrance.
Best tip is - follow the clean water and as it comes in, try your lures as the bigger fish will sit to ambush bait fish as they enter the lake. It cleared up quicker than I expected
so
get out and get amongst them
Pagey@Keepers
bait and tackle .
7th June 2012: Lake opens and the cycle begins again
"
There she goes
" Lake Tyers opened to the sea under rough conditions on Tuesday morning this will bring quick changes to fishing over the next days and weeks with fish coming and going through the entrance as it settles into a regular pattern. Dont be afraid to try a lure in the channel chasing Salmon Tailor and Trevally as they chase the bait fish entering the system. Some good Bream were being caught before it opened on crab and vibes. The surf was very good, but it might take a few days to now settle. It is a good chance to try something different so
get out and get amongst them
Pagey@Keepers
bait and tackle .
17th May 2012: Quietly productive season continues
Some good Bream on vibes have been best reported catches over the past few days in the deeper water, those using bait find Prawns and Spider Crab are best bait. The Flathead have headed north with water temps dropping to around 15degC around the Trident and The Island are best chances through to Camerons Hole. The surf has been great when weather conditions have been ok with some good Salmon on Bluebait and Squid and lures on light gear always produces a bit of fun. With fewer people about this time of year gives you great opportunity to enjoy the area with top accommodation available and top fishing options you need to
get out and get amongst them
Pagey@Keepers
bait and tackle .
4th May 2012: Season still provides targets
Lake Tyers is on the move. That's is the fish of course, with water temps dropping and with cooler weather the Flathead are starting their natiral migration up the lake system. Still some good catches on Pilchards and plastics being reported best in the evening around the Trust and up to the Trident. Bream are best on Prawn and although the small ones cause havoc, there is some good ones amongst them in the deeper holes, try just a little further from the bank than normal.
Mixed reports on the surf with some good Salmon and the odd Snapper taking Bluebait and Squid and when you see the seaguls active try your spinning outfits with silver slides and light gear for some fun in the surf so
get out and get amongst them
Pagey@Keepers
bait and tackle .
17th April 2012: Water level holds and so has the fishing.
The fishing at Lake Tyers continued to impress our holiday makers over Easter with some great catches recorded. Quality Bream on Prawns and vibes and some great Flathead on plastics kept everybody happy.
I think they are on the move though, with water temp starting to fall I suspect the Flathead have started their migration up the lake which is normal this time of year. Pilchard and Prawn or plastics will still see good results, but you may have to work a little harder. The Bream are still about but a lot of small ones pinching bait before the larger fish get a chance, so try the deeper drop offs especially during the day.
The Prawns are not as plentiful, but the quality is good and that should hold up for the next couple of weeks.
The surf remains solid with some Pinkies taking Squid and Salmon on Bluebait and when you see the birds diving try any silver lure on light gear and enjoy the challenge so while the weather is great
get out and get amongst them
Pagey@Keepers
bait and tackle .
31st March 2012: School Holiday conditions are promising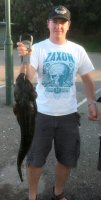 All Looks good for Easter with strong reports of good size Bream on both prawns and vibes in the bottom lake. Try around the channel markers, Glass house, Blackfellows Arm and off the drop off around the Trust. Flathead remain active on plastics with some good size fish which is normal this time of year.
The surf is producing Salmon on Bluebait and Squid but a popper is still a good option to beat the crabs, the odd Snapper is also keeping anglers interested.
The Prawns seem to have slowed a little but as the water continues to clear they should be alright over Easter and provide the kids a bit of excitement at night time. The weather report for Easter is excellent so dust off the gear,
and get out and get amongst them
Pagey@Keepers
bait and tackle (
Family or Group Accommodation required?
)
PS We will be open
7AM FRI SAT SUN MON
over Easter see you then, and travel safely
.
21st March 2012: Settling in for a great Easter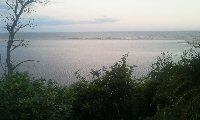 Lake Tyers continues to deliver. With good sized Bream smashing Prawns down the bottom of the lake. The water has
risen quickly
in recent weeks with the rainfall we received which has coloured the water and slowed the Flathead a little but it is clearing now. The Prawns whilst a little harder to see are plentiful and providing people hours of fun after dark. The surf has Salmon taking Bluebait and poppers and the odd Snapper on squid.
As the water settles the Flatties will take both plastics and vibes used with a slower action for best results.
So get out and get amongst them
Pagey@Keepers
bait and tackle
.
29nd February 2012: Festive feel to the lake, let's celebrate..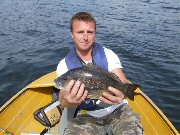 It looks like carols by candlelight at night as people take advantage of the good run of Prawns at present. All out getting great catches and it should continue for a few weeks yet.
Good bream around the channel markers and off theTrust bank best early morning, and Prawn is best bait, but vibes and plastics also giving results.
The Flathead are still going all over the lake, with bait or plastics both working well and most fish are between 40cm and 70cm with the odd one going over a metre. Some Tailor are taking lures and provide some fun on light gear.
The surf is best at top and bottom of tide with some Flatties and Salmon being caught on Bluebait and Squid plus a popper is a good option. So with not so many people around its a great time to take advantage of the best weather of the year and
great accomodation
packages available,
so get out and get amongst them
Pagey@Keepers
bait and tackle
21st February 2012: Bream are firing up, along with all the rest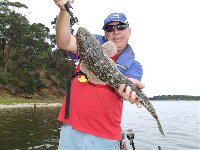 Well Lake Tyers is living up to its top reputation with some excellent catches of both Bream and Flathead all around the lake. With excellent conditions over the last week plastics, vibes and Prawn or Pilchards have seen some excellent catches recorded. Big bream over 40cm are taking vibes in the main lake along the Trust Cliffs in 3 metres of water along with Flathead mainly around 45cm off the Glass House. Around The Island and up to Camerons Hole are all doing well. I fished a couple of sessions with "Captain" Rowe from Warrigul Anglers during the last few days we tried Blackfellows Arm and the Bottom Lake with some nice Flatties topped off with a 62cm that the captain got on a plastic. It of course was released to be enjoyed by the next lucky angler - well done Rowie.
Plenty of Prawns caught after dark on the sand flats in front of tavern and around the Glass House.
The surf is producing Flathead and Pinkies off Beacons Reserve as well as Salmon and the odd Gummie, all the way to Petmans Beach. Best baits are Bluebait, Squid and Eel so no excuses
get out and get amongst them
Pagey@Keepers
bait and tackle
2nd February 2012: Catching Flathead and Prawns!!
Lake Tyers has continued to fish well over the last couple of weeks and with the speed boats retired till Easter it's time to take advantage of the good weather and excellent conditions to fish from either boat or bank. Flathead are taking plastics off the Glass House, The Trident and down around the channel markers. If using bait try Pilchards or Glassies or Prawn. The Bream have been a little harder to catch but if you get on the lake early, you will improve your chances with Prawn being best bait.
Plenty of Prawns being taken in the bottom part of the lake after dark providing fun and a feed.
The surf is seeing Flathead and Salmon on poppers and Bluebait and the odd Gummie. It is a little unusual to see so many Flathead off the surf but I haven't had any complaints yet.
So with plenty of accommodation available take advantage of this great time of year and
get out and get amongst them
Pagey@Keepers
bait and tackle
23rd January 2012: Plenty going on at Lake Tyers
Plenty of action to report at Lake Tyers with anglers catching Flathead on plastics to 60cm all round the lake and some good catches on Prawn and Pilchard around the channel markers later in the afternoon. Bream are out and about with many small Bream on Prawn and if using a lure Vibes seem best. Also heard of a few Trevally and Tailor about just to add a bit of variety.
The surf has seen a lot of Flathead and Salmon the odd Shark and a few Tailor - best baits are Bluebait and Squid and make sure you have a popper on as these are also doing well. The last couple of days have seen strong winds which have made it difficult, but with positive forecasts for the Australia Day weekend, dust the gear off and
get out and get amongst them
Pagey@Keepers
bait and tackle
3rd January 2012: Summer's here and the fishing is good!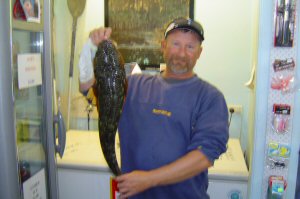 The lake has finally closed to the sea,and with plenty of people enjoying the pristine water and great weather. We are seeing some great catches being recorded with Flathead leading the charge on either bait or plastics, starting around the channel markers, then later in the day up in the arms. Bream still a little elusive but vibes are accounting for some early morning best. A few Tailor and the odd Trevally make good variety and sporting fun.
The surf is producing Salmon and Flathead here the best bait is Bluebait or Squid, about 1 hour either side of tides. People are having fun with prawning on the sand flats at night whilst not real large yet you can still get a feed and the kids are busy all day catching crabs down the front of the Tavern so with the lake so healthy it is the place to be so
get out and get amongst them
Pagey@Keepers
bait and tackle
For those that love their records:
ARCHIVE 2010
ARCHIVE 2009