| | |
| --- | --- |
| | |
| Jan, 2018: Sharing a yarn about fishing in the Tavern, No Fuss Guss got talking to Blake Cameron and his dad. Young Blake landed 45 cm on soft plastic in front of the Tavern! His family lives in Seville (Yarra Valley). This was Blake's personal best (what a way to start!) | and just prove it was not fluke he went out and caught a similar Flathead the next morning. He was really excited to show off his catch to local fishing legend, No Fuss Guss! What a weekend!!! |


This John Dory was caught in the shallows in Lake Tyers by Basil (a dog), a beautiful white Samoyed, who was out being walked with Avis and Phil. Basil was able to pull this fish out of the water. The Samoyed breed, while looking very attractive, have their origins in ancient Arctic working dogs, and have a reputation for being very hard working sled dogs, but also good at fishing as well.

This is a very curious event as the lake has been closed by the sandbar for the last 3-4months and this is the first time we have reported such a catch. For a dog to be able to catch it may also mean its health was not good. John Dory are usually deep sea fish (Benthic). Basil will also chase Mullet but has not been successful, so far!
| | |
| --- | --- |
| | |
| Smokin' Joe has landed another nice Flathead. He is right on the money on how to get these fantastic fish onto the line. Needless to say Joe politely returned this one to the water unharmed, and a lot more famous (What was you pet name for that one again Joe? Surely you must be on first name terms with most of them in the lake by now :-) ) | Another surprising thing happened when Joe was getting ready for the photo shoot. The Flathead coughed up this head of a fish which looks like an Estuary Perch and maybe originally about 35-40cm. The skin was digested away and it looked quite eerie. However if you have had doubts that your bait might be too big, think again!! The high "forehead" and teeth/mouth was not like a Bream. |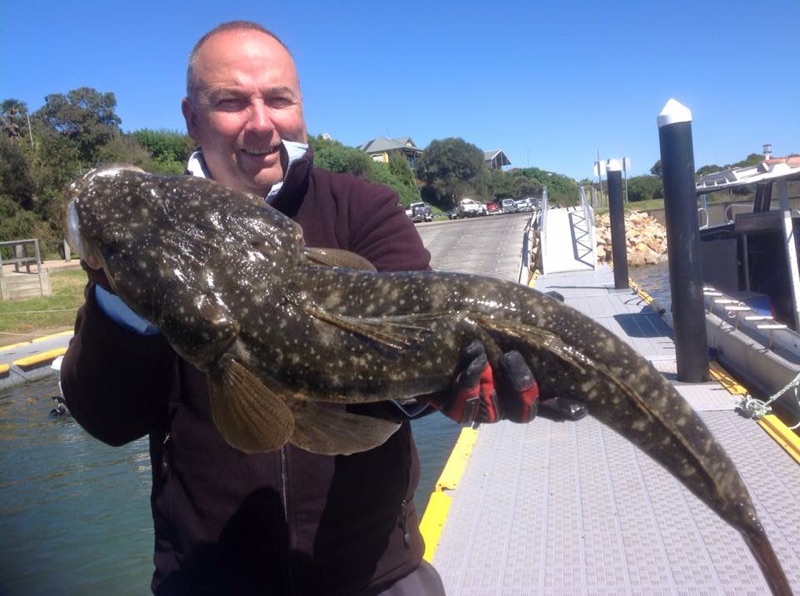 Joe caught this magnificent Flathead on 20th Oct 2016 using a lure. The fish was safely released at Number 2 Boat Ramp. So there has been at least one whopper in that area!! Note Joe's considerate Handling of the Monster, supporting the body and not letting it literally hang from its skull.






The Happy Hookers were recently at Lake Tyers Beach and reversing the trends of recent poor catches with Bream.

The lads (AKA known as Rowey's crew) caught some superb condition fish and showed that things are about to change and the new season may well be off and running with these catches.

PS Rowey did you see the Age (early October) article on the Newstead Bull Boar Sausages!! Still available at the Newstead Butchers.




10 years old 42cm Flathead at fisherman's landing, Blake Cooper with a good 30cm Bream, and 8 year old Corey cooper with a handy Bream. Well done lads, not every one is having your success.

Good on ya Lads and Dads!!!


Beautiful 93cm Flathead here, taken by Joe from Lake Tyers Beach in first week of March 2016 on a plastic lure.

Magnificent creature being held the best way for Monsters and a gem in the lake's ecosystem.

Nice work Joe!!!

(Sorry about the date mate!!)

Notice the support for the tail of the fish, so its weight does not hang all behind its skull. This is the way to handle a monster!!

Grant Rankins first time at Lake Tyers Beach using white sliders, a 59cm Flathead.

Grant is demonstrating here the right way to support a Flathead for a 'record' photo. This fish has a much better chance of surviving a 'release' when held with a jaw-clipper and is also supported along the body with a firm grip.

Obviously just going from the net to a horizontal Brag Sheet (which also records the length) would be best practice, but this is the next best thing.

Current opinion has it that holding up big Flathead by the jaw alone is essentially going to kill them as they will have been "hung", as in capital punishment. All their weight, which is considerable is now hanging off the first vertebrae in the neck, instead of being nearly weightless when swimming in the water.

So a big Flathead can exert huge pressure from their head on a hook and line in the water, but their bodies are subject to different tensions out of the water they are not adapted too.

December 19, 2015






The

Happy Hookers

have visited us again and landed some excellent catches.

It was great to catch up with Rowey and a few of the boys to freshen old memories and make some new ones.

Pictured is one of their Flathead keepers with a very healthy appearance. Lovely fish!!!

December 2015







Winners are grinners!!

Last Saturday and Sunday (12-13Sep2015) in beautiful weather the Port Albert Fishing Club and Lake Tyers Beach Angling Club went toe to toe, but armed only with fishing rods. The weekend was a great success with many fine fish caught and the Port Albert Club comfortably tipping the scales against LTBAC. Thanks to the Port Albert crew who traveled so far to participate, and to the LTBAC members who got in the spirit of it all and contributed in many ways on the day.




This magnificent 1.471kg Bream was caught by Gus (Garry Francis) in the 2015 Twin Rivers Bream Classic, Prize money $175.

Known for his fishing determination and knowledge Gus applied himself to the task of getting competitive in this annual local event in July.

The conditions were harsh and unfavorable to humans but many good fish were caught.

This top fish was taken fishing off the bank and about mid morning in the Tambo between the river mouth and Johnsonville Boat Ramp.

Nice one Gus!!!





"

Over Easter period 2015, while staying at Waterwheel Cabins park with the family,my name is Roy C,and I have some pics to show how good the fishing is in Lake Tyers at the moment. Best Flathead over Easter weekend was 65 cm,

released safely after pics and Bream at 36 cm. Also good mixed bag every day out. All fish caught on Prawn, bait and plastics. When quiet, my wife Brenda C caught the 65 cm Flathead and my little daughter Gabriella caught the 36 cm bream. Also caught nice Silver Trevally shown in our pics and a Flying Red Gurnard much to our surprise. But all in all fantastic stay with very friendly people in town, publicans very helpful and great food, thank you for a magnificent place and we'll be back very soon.

"



Note the excellent use of a Brag Mat for the photo, the fish is horizontal and does not have the body weight dangling off the head and jaw!! Well done folks.

| | |
| --- | --- |
| | Shane with a nice Lake Tyers haul in March 2015 |


Some lucky young girls whose Dad and Mum enjoy a fish and the hospitality at the Lake Tyers Holiday Retreat.

Taken around Christmas 2014 the family had a great day out on the Bream and the photos prove it.

Thanks guys and well done.




A smilin' Rowey from

The Happy Hookers Angling Club,

with a fine, late Nov 2014, trophy
Flathead catch measuring 73cm.

More evidence of the monster Flathead revival underway.

So take Rowey's advice and remember to treat the fish carefully, as not only do they have to go back, but also to survive as breeders.

Some fish will inevitably caught a few times so be extra carefully respectful of the Monsters!!!

Tight lines!

Can't find yourself on the Brag Board? Go to the
Brag Board Archive1
page for more......