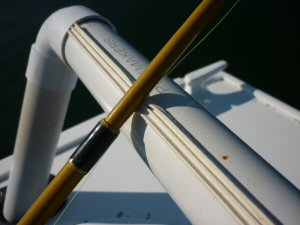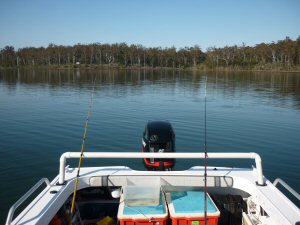 The Rod Rest



Ever wondered why you missed that bite? No bait on the hook yet again?

Probably because you were not watching, and why were you not watching? Because your rod tips were way to billy'oh somewhere else, in the air, over there, way too high. Where is the most relaxing place to keep you eyes? On the horizon!
So this shows how you can set up a rod rest that pitches the tips near the horizon. Change where the handle rests and fine tuning is a breeze.

Get some 50mm pipe or whatever your rod holders take and make a big upside down "U". Now the finishing touch is to add some window sealing rubber (is it rubber or synthetic?) along the side where you expect the rods to mainly rest. This stuff with the sof profile grips like glue and allows rods to be quickly positioned and stay in place.

If you see a bite the handle is at your feet ready to go, and you can strike without fear of tangle or dis-engaging complcated rod holders. Try it, you will like it. Just don't lean on it!