Small Map Preview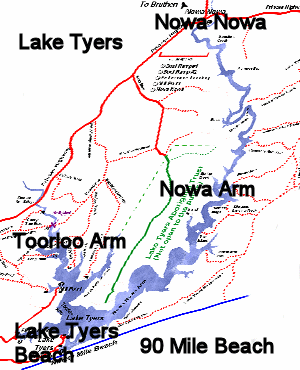 It has taken a while to refine this

A4 map

and well worth the

$2.00

purchase price, or $4.00 for the laminated version.


If you want an A4 version of this map with the local names of the places then head to

Lake Tyers General

next to the Waterwheel Beach Tavern and pick the A4 version up for

$2,

or a laminated version A4 for

$4

. Slip it in the boat or the tackle box and you will know what the tips are talking about when they say "above Camerons #2", or "near Crystal Bay".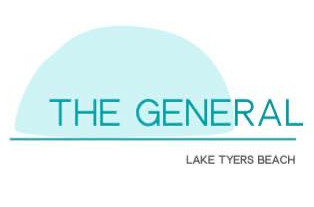 There are five boat ramps and numerous spots for bank fishing, as well as the surf across the other side of the sand bar. Many have picnic tables and a few have toilets. The picnic tables are indicated on the map.

The openings of the lake to the sea that occur every few years replenishes stocks of some fish varieties, such as Tailor and Snapper, and freshens up the brackish waters for the permanent stocks of Bream, Luderick, Garfish and Flathead (NB the slot size: less than 30cm, bigger than 55cm, then you put it back, carefully!).

Many of the roads are "family sedan" friendly though even slightly unpleasant weather will make them difficult to drive, so be careful and don't take unnecessary risks while exploring the area in either a land vehicle or a boat. The lake conditions especially at the wide southern end can be extremely choppy and a real challenge to any small tinnies.

Be on your guard as conditions change quickly.


This map is ideal if you want an accurate map of the lake itself. It has notes on history, modern and ancient, as well as depths of all areas of the lake.


Prepared by

Gippsland Ports

this detailed map (depths in the lake are good) is a good investment for the serious boat owner. Chase it up in bigger news agencies and the like.


View Lake Tyers Beach - for the best time! in a larger map