Fishing Tips from No Fuss Guss

Guss knows the local conditions
and has skippered many fishing parties
on the lake over the years. So here it is -


The Lake Tyers

Fishing Report

Check Water Wheel Beach Cabins for your mates' next trip.



-=o0o=-
Archive 2013
30 December 2013 - Flathead in shallows
Some nice Flathead have been taken recently (See BragBoard). The green strand weed continues to be a nuisance especially for flick and retrieve, plastic style fishing, but for those that can find a clear sandy bottom, and more often than not shallow at that, good results are possible. Tailor are wrecking all too many soft plastic lures and are plentiful in the lake. If you enjoy some high adrenalin fishing, slip on a metallic lure and troll!! Bream will be a more elusive, but satisfying target if care is taken to explore higher regions of the lake. Bigger baits such as Pilchard will keep small fry off the hook. Take care and easy as you go. No-Fuss-Guss

22 December 2013 - Bream are on the improve
Bream are fishing well above the Devil's Hole with banana prawn proving a good choice along with Pilchard for the bigger Bream. Catches have been the exceptionally good looking golden or sea Bream , taken early in the morning. The weed continues to be a challenge making retrieval chancy work. A couple of bigger Flathead have been lost this way recently, so take it easy folks and always keep a moderate drag setting. Many smaller Bream are in the shallow waters and will make a mess of your bait. Otherwise the lake is coming good and is ready for summer fun. Take care and easy as you go. No-Fuss-Guss
PS No-Fuss-Guss will be assisting Santa again this year so hop along and support him, and the local clubs and businesses that make it all possible. Seasons greeting from all of us at the tipping page. Tight lines!!
15th December 2013 - Sandbar as good as in place for summer
Lake temperature continues to rise and Flathead are moving into the lower lake area. The loose floating weed is making lures a bit more work, though the weed is not toxic and actually provides good food and cover for the small animals in the food web. Bream have been caught around Blackfellows Arm and down around the Channel markers. Plenty of bites on Sandworm. but most are a nuisance size. The water is currently quite high after the sandbar closes, but unless more rain occurs, seepage and evaporation will lower it over the next few months. Looks good for xmas and new year action. Take care and easy as you go.

No-Fuss-Guss
2nd December 2013 - Summer officially here and the lake's temp's rising
Good bream are being taken in serious size (arouind 38cm) and numbers well above Devil's Hole. The Flathead are also moving down with good catches with Plastics in the lower lake reported near the channel. The winds are reducing and the longer, warmer days are making it an ideal evening fishing time. The lake is still open, though the opening is greatly reduced and significant flows only occuring at the top of the tide. Take care and easy as you go.

No-Fuss-Guss
24th November 2013 - Tavern Fishing Comp' produced good fish
The lake performed well last Saturday for the Water Wheel Beach Tavern fishing comp'. The weather was kind most of the time, and many entrants caught good size fish, both Flathead and Bream, the target species. We saw some spectacular catches (results board) and I haven't seen so many boats on the lake for a long while. 'Dutchy' took out the big prize with combined length of 155cm (two Flathead and a Bream). The Warragul boys were an example of many people who travelled a fair distance to compete and had a great time. The day before the comp' one of their members, Hans, caught a 95cm Flathead the first time he used plastics! Another of their members, Phil Cole came second in the comp with total of 151cm. Pilchards were a popular bait, but Prawns once again appeared to be best standby.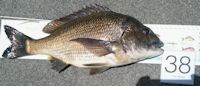 There is plenty of weed around the edges, but fairly harmless apart from having to drag any catches through it to land them. The fish are in excellent condition and other fishers caught a wide variety of species including Yellow Fin Bream and Tailor. Congratulations to the Wheel and Matty, a well run and fun comp'. Take care and easy as you go.

No-Fuss-Guss
12th November 2013 - Locals doing well, visitors not so well
Locals with good knowledge are bagging out on Bream and occasional Flathead. Visitors who are new to the lake are not fairing so well, with one team of four guys fishing for two days and not losing a bait. Fishers who know the lake well are taking Bream in very good condition. Above the 5KmHr signs is a good place to begin. Be prepared to get the occasional wild ride with Salmon all through the lower lake at the moment. If you want to target them, then try at the entrance or off Nos2 Jetty at the changing of the tide. We had 30mm of rain on Monday/Tuesday and this has freshened up the opening again. Take care and easy as you go. No-Fuss-Guss
PS Tavern is allowing late Fishing Comp entries so don't be put off by the dates - now that is a tip!
Latest News:

The Water Wheel Beach Tavern

Fishing Competition

is on 22 November.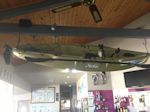 Briefing 6pm at the Tavern on Friday night, and the comp' is the following day Saturday from 6am to 4pm. $30 entry for adults, children (U15yrs) free. Target species Bream and Flathead. 1st Prize Hoby Kayak $2500+, 2nd Prize Weekend in Tasmania, 3rd Prize Quality Pro Fishing rod and Lures $300+ etc. Catch and release, so Photo entry from 3-5pm Saturday, awards begin 6pm. See the rules for record keeping and scoring in Tavern window..


All entries must be in by 11Nov 2013

. Any late changes to rules prizes etc will be made at the briefing. Be there! Get your entry to the boys at the Tavern now, don't delay!!
24th October 2013 - Weather not with us
The weather has been taking its toll recently with all too frequent rain events, plus the occasional big downpour (eg last Tuesday's rainfall) keeping anglers quiet. Consequently the lake has been rather slow and not many people reporting much action at all. However the mouth continues to stay open and has moved right to the east, over to the other side of the bar. The rain should keep the mouth open (some predict right through to xmas!) should see a healthy intake of prawn larvae and refreshing of other fish stocks for a bumper summer season. Take care and easy as you go.

No-Fuss-Guss
13th October 2013 - No Fuss Trip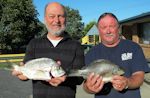 Your favourite Tipster has taken a weekend off with the Boys at Marlo and apologises for the break in service. In a close fought tussle one of these fish is the winner, can you pick it? A very good time was had by all and a wide range of fish were caught. Big Bream were again hard work, but plenty of sub-"keepers" kept lines and anglers busy. Just to give you an idea we caught Black Bream, Yellow Fin (Sea) Bream, Luderick, Perch, Mullet, not to mention being annoyed by the occasional Toadies, Eels and Seals!!! Baits were Local Prawn (almost black, but caught the winner!!), LE Sandworm, and Pickled Sandworm. Places tried were Brodrib above the bridge, Snowy, Lake Corringle, the Islands and the channel (very wide opening this year causing strong tidal effects nearly everywhere). Back to local news soon. Take care and easy as you go.

No-Fuss-Guss
23th September 2013 - School Holiday Time
The temperature of the water has been the main factor considered to be holding catches of Bream back. Some notable anglers participated in a local competition over the weekend and even with local knowledge on their side found the Bream hard work. The other major species Flathead are also very quiet and no doubt influenced by the water temperature. If we can work out some reliable and consistent way of reporting on lake temperature we will consider making it available on these pages. Take care and easy as you go.

No-Fuss-Guss
12th September 2013 - Visitors around

Just to follow up the previous report on the possibility of significant new fish coming into the lake, there have been reports of very silver, yellow finned Sea Bream (?) being taken on bush style baits. As well as Eastern Australian Salmon of good size are also in the lake, so watch out if you get one on a lightly tuned Bream rig! Mal' and Mick are shown here with a three nice fish, a 1.2kg Bream and 1.9kg Salmon taken with a flashy lure, It sounds like the Bream are about to return, so try arms around lower parts of Toorloo Arm. Take care and easy as you go.

No-Fuss-Guss
26th August 2013 - Lake fish very quiet
Very few Bream being taken at the moment, at a recent angling competition a gathering of the Lake Tyer's experts only managed one legal Bream on that occasion. Even good quality local Sandworm could not tempt them. Some Flathead have been caught off Number Two Jetty, but were quite light in colour and opinion was that they had come in from outside. The opening is very strongly tidal at the moment with recent, especially high tides. The lower lake system is getting a very thorough flushing. Just remember the fish are spawning at this time of the year, so look after our stocks with sensible angling. Take care and easy as you go.

No-Fuss-Guss
12th August 2013 - Suprise results
Word has it from the recent big comp in town that Flathead were taking lures, mainly plastics, allthough in small numbers. Generally very few Flathead have been reported lately, with considered opinion it is too cold and they are "hibernating". The Bream continue to be hard work and the keener anglers are applying hard bodied lures to increase their catches. Temperatures continue to be low in the lake and the opening does not appear to be closing any time soon, with strong tidal flows. Casting lures across the opening has also been popular. The majority of the lower lake is very clear sea water at the moment, a good flush is in progress. Take care and easy as you go.

No-Fuss-Guss
25th July 2013 - Good catches continue

Middle of the lake starting to fish well. Deeper waters proving better, maybe the fresher water on top in areas under tidal influences. Sandworm has some recent fans, and reliably peeled prawn is still good. About 3-5 metres a good depth to look for. Take care and easy as you go.

No-Fuss-Guss



PS Like to read

the weather

? Check out the new layouts and more accurate graphs.
PPS Check this link for more info on: East Gippsland Charters
16th July 2013 - Shakedown
The Diawa-Hobie comp was a good spectacle over the weekend. Congratulations for a very well run "catch and release" comp. However as the results show, while many fishers achieved spectacular results, about 10 of the 60 competitors did not weigh in. Given the undoubted experience of these guys, the lake obviously does not give up its fish easily. (See the site for details of the many lures these guys used) If you are going to try yourself, then try local prawn, peeled and un-weight-ed. Good Bream around the Kilo are ready for the keen angler. There have been Salmon observed in the lake and will provide exciting sport on a Bream rig, however if you want to target them, try trolling a silver lure. Take care and easy as you go.

No-Fuss-Guss

PS See you at the Twin Rivers.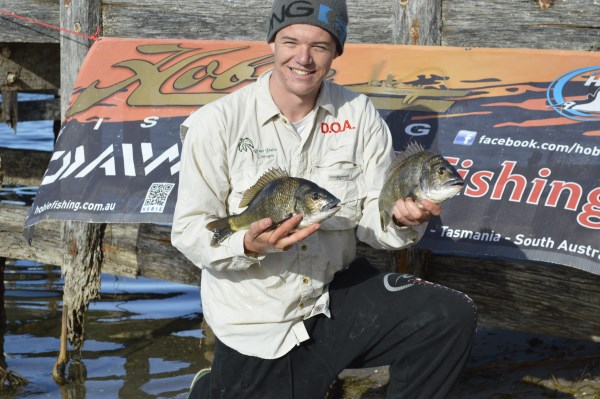 Courtesy: http://www.bream.com.au
Local boy Matt Duggan running a nice third on the first day and ended up16th overall
23rd June 2013 - Surprising results?
Good results recently from high, middle and low lake from quite a number of boats. Some people have bagged out and the Bream are taking peeled local prawn. Both tight and slack lines have proved useful. Above Devil's Hole, down to near Pirate's Bay and into the main lake have all produced excellent fish in good size and condition. A couple of years ago the opening unsettled everything and it tooks months to recover, not so this time. Take care and easy as you go.

No-Fuss-Guss
18th June 2013 - Lake Tyers has opened
I saw the lake open naturally today at 7:30am. Huge amount of water rushing out. It will take a week or so for this to settle into a strong, regular tidal flow. However it will replenish some stocks of fish that don't breed in the lake and also provide an escape route for others who were in the lake. It should add a bit of spice to local conditions, so stay tuned for further developments. (Openings and How Deep) Take care and easy as you go.

No-Fuss-Guss
7th June 2013 - Long Weekend
Isolated reports of Flathead still responding to plastics. Bream still for the taking about midway up the Nowa Nowa Arm around Camerons Tracks and Reedy Corner. There will be more action over the weekend, and not much to offer until reports come back form that time. Take care and easy as you go.

No-Fuss-Guss
22nd May 2013 - Sluggish results locally
The average angler is having a hard time recently to find good fish. Reports of good bags trickle in from other lakes such as Bemm River and Mallacoota, but Tyers and the major lake systems are very quiet. No doubt the good anglers will make better of it. Sales of local prawn continue to be good, and your best bet, bait wise, as usual. Plastics will make the most of very few Flathead, though it was heard very good Flathead catches were taken well above Devil's Holes last week. Take care and easy as you go.

No-Fuss-Guss
9th May 2013 - Lake temperatures dropping, fish are moving
Blackfellows Arm continues to be the best place at the moment and with the temperature dropping the Bream and Flathead tend to move up into the narrower areas in the arms. Local Prawn as a bait is still popular and a good starting point. If you have not tried the Nowa Nowa boat ramp, now might be the time to come down from the top towards Devils Hole. Take care and easy as you go.

No-Fuss-Guss
15th April 2013 - Bream continues as the productive target
Bream are the main fish at the moment. Flathead can be caught, and those are usually of very good size, but are very low in numbers. Local Prawn is still productive with the Bream, and for locations, Black Fellows Arm is consistently mentioned. Keep the tackle light and with small sinkers. Use a hook like #2 Baitholder which is larger, rather than smaller for Bream, to avoid annoying small juvenile Bream hooks ups (They don't like it either!) Take care and easy as you go.

No-Fuss-Guss
10th April 2013 - Big ones are around

Generally around lower lakes system good catches can be made. Big Bream are being caught, but are spread out so moving around regularly will improve your chances. Some people are experiencing best results with fresh local prawn, whereas others have had good results on packet prawn. There are plenty of vigorous young ones which indicates the lake is in prime condition. Flathead though are scarce. Again Blackfellows Arm is a good area to begin with. Take care and easy as you go.

No-Fuss-Guss
7th April 2013 - Lake low, but Bream are good
Blackfellows Arm is fishing well, and also up the Nowa Nowa Arm near the Island and 5kph signs nearby. The Glasshouse through to Marl Island also attracting keen fishers. Fresh local prawn is working well and peeling a few may tempt the occasional Flatty which are still proving to be the elusive targets. The low lake level appear to be helping the Bream fishing, but not so with the Flathead. Luderick and Trevally are also around but in very l;ow numbers. Take care and easy as you go.

No-Fuss-Guss
27th March 2013 - Bream are up and Flatties are down
Catches of Bream around Mission Point have been good, but the Flathead have gone very quiet, try well up in high waters. Around into Bulmers and before Pirate Micks along with the drop-off near the Glasshouse for other Bream spots. Local Prawns are available and very effective. Take care and easy as you go.

No-Fuss-Guss PS

Don't forget

LTBAC Easter Bream competition

31 March Easter Sunday. Check the fantastic array of prizes and all the ways you could be a winner! Great family fun for all.
13th March 2013 - Bream are back!!
The Bream are back and in big healthy sizes. Trident is a good place to start with peeled Prawn producing 32cm+ fish. The plastics are still working with Flathead. Bream are being caught down to the middle lake and seem to be more dispersed, so hunt around. Once again fishing into the evening or getting up early gets better results, with evenings doing better for some. There are also quite a few sizeable Salmon in the lake that are taking lures. Take care and easy as you go.

No-Fuss-Guss
1st March 2013 - Not easy on beginners!!
The level of the lake is still low, though recent rains may boost it a little. Bream are still elusive for many anglers with even the best anglers having lean days. Flathead have also become harder to find. However some visitors achieved success using hard bodied lures and soft plastics on the Bream. A certain commercial group were having a good go and were pleased with their efforts, so it can be done. Blackfellows Arm is probably the best bet. Take care, and easy as you go,

No-Fuss-Guss
20th February 2013 - Guest fisher Pedro comments (No-Fuss-Guss is on Holidays!!!)
The lake level is at its lowest with plenty of weedy flats exposed and drying in the sun. Flathead are proving a hard to find but the Bream stocks are definitely improving and looking good for a bumper Easter harvest. Local prawns are best if you can still get them. Locals will have stock piled them in the freezer by now. Lures are definitely worth a try, especially in the deeper waters.
The surf is always a good source of fun, keep a popper on, and maybe a trace in case the big one hits. Take care, and easy as you go,

No-Fuss-Guss
13th February 2013 - Bream definitely moving
Some excellent catches of healthy Bream reported from Blackfellows Arm and around towards Fishersmans Landing. Others have chosen to begin at Nowa Nowa and work back successfully. The Bream recently have been healthy and good quality fish. Flathead have now become harder to find and need serious effort for a good catch. A fishing occasion of interest to many was the "Youngies versus Oldies" competition. A family comp organised each year and this year has seen the Youngies wrest the Trophy out of the firm Oldies grip. Mel, Macca, Robbo (O Team) and Luke and Sam (Y Team) caught some fine fish as shown here.
Take care, and easy as you go,

No-Fuss-Guss



28th January 2013 - Bream improving
Much improved catches of Bream reported from up the lake, with 'around' Devil's Hole mentioned a few times. Work towards the edges for the Bream, and this will give bank fisherman a bit of hope as well. Flathead are still proving a good fish to target with regular catches of good sized fish reported. Congratulations to Ray and Peter (both members of LTBAC) with a nice catch this morning. Excellent Bream and some nice Flatties. Take care, and easy as you go,

No-Fuss-Guss



19th January 2013 - Flathead are best bet at the moment
Plenty of fun with the smaller Bream around the jetty at Number Two Boat Ramp, however better size and quality at the moment are with the Flathead and a good spot to try is in Blackfellows Arm. Some success was reported there drifting and using plastics. While the big Bream appear to be still under pressure, good fish are around and recent report of healthy good sized Bream from around the Glasshouse area. Not sure the Bream problem is Sea Lice, as other opinions are that it is more likely a fungus. Take care and easy as you go,

No-Fuss-Guss



8th January 2013 - Lake conditions under pressure
Flathead are the consistent performers for quality fish so far this season. The larger Bream are under a seasonal attack of sea lice and while they are easier to catch, they are not in quality condition. Anglers are probably best advised to head further north toward at least the middle of the lake where the younger Bream will provide excellent sport. Number 2 jetty has given some good results with fishers making a very early start and Flathead the target. Not easy to say what might be making it so hard for the senior Bream, but no doubt the algae and mud-gas may have something to do with it. We may need some decent rain for a balancing effect. Wishing you the best of luck for the new year 2013 and easy as you go,

No-Fuss-Guss