Fishing Tips from No Fuss Guss

Guss knows the local conditions
and has skippered many fishing parties
on the lake over the years. So here it is -


The Lake Tyers

Fishing Report

Check Water Wheel Beach Tavern for your mates' next trip.



-=o0o=-
26th Dec 2018: Flathead are stealing the show.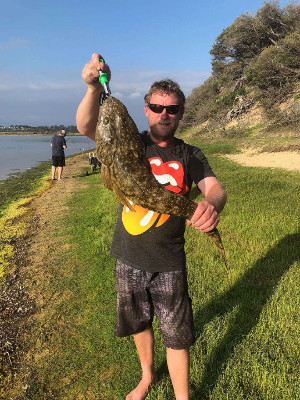 Remember Blake Cameron? Well his dad, Gordon has been in touch this summer with a very nice 80cm Flathead taken off the bank near Mill Point. This is a magnificent breeder and essential to be returned to the water unharmed. Keeping these big females in top condition and breeding well is the back bone to keeping Flathead numbers up, and making sure there are plenty of <55cms (and >29cm) to take home for the plate.

Plenty of small Bream cleaning up hooks, and if you are not rigged up the right way, the Tailor will just take your whole rig off, full stop. So take plenty of bait and tackle!!!

Easy as you go.

No-Fuss Guss

(www.laketyersbeach.net.au)




26th Dec 2018: Flathead Special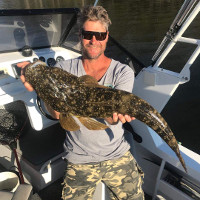 Trent Davis (of Reel It In fame) and Scott in Flathead heaven. What gorgeous looking beasts? And we are talking the fish obviously. These are the future of the Flathead sport in Lake Tyers, properly landed, held and returned to live and breed another day.

However it does require a bit more work than flopping a lure over the side of the boat. These girls are not easily fooled and you may have to work harder than you think to land one.

Easy as you go.

No-Fuss Guss

(www.laketyersbeach.net.au)




22th Dec 2018: Tailor puts a big fight
Cooper Wilson (11yrs, Lower Plenty) with a grand 68cm Tailor caught in the Nowa Nowa Arm on light Bream tackle. The fish launched itself out of the water several times and put up a real fight. Cooper eventually won out on the day and very proudly landed the catch in a net.

This is the sort of fishing that captures young people's hearts and minds. Great to see the lake providing such opportunities.

The algae is building up in the shallows over the sandy areas, and the lake has not risen significantly even though we have fairly regular bursts of rain. The temperature would be above the 20's and evaporation would be taking its toll as well with this hot summer burst.

Easy as you go.

No-Fuss Guss

(www.laketyersbeach.net.au)

20th Dec 2018: Flathead lead the school
Flathead continue to capture the top news spot with plenty to brag about. Sprinkles (aka Shane Greaves) has landed a good catch on the shallows near The Glasshouse(?). There is still plenty of water and idyllic spots to be fished on Lake Tyers this summer, but do take if you are in a boat and especially if you are the skipper. Get you and your crew back safely and enjoy the day out. Lake Tyers is frequently patrolled by both Fisheries Inspectors and Water Police, take care of yourselves and the fish! See you in 2019.

Easy as you go.

No-Fuss Guss

(www.laketyersbeach.net.au)

18th Dec 2018: Bream are not yet goin' easy
Trent Davis is pictured kicking off his season with a really nice Flathead. This may need to be your target species as the Bream are hard to find and not really responding to any baits or lures. It will be a canny fisher who can bag out on Bream at the moment.

The rainfall has been low again this year. From mid year 2016 (when my daily records began) to late December 2016 we had 327mm in that half year, whereas in all year in 2017 we had just 435.7mm, and so far in 2018 all year we had 401.7mm. This is barely over half of the 2016 rainfall. However the lake appears to remain in good condition and able to weather this dry cycle for a good bit longer. The El Niño predictions apparently say we will have a slightly wetter than normal summer, but that is at the expense of the overall decrease in annual rainfall, and especially over winter where crop growth is essential for farmers, and also for opening the lake!

Low rainfall here also means the lakes does not have excessive run off from farm land with nutrients from fertilizers or live stock or natural vegetation break down. So the water is still in pretty good condition, even if not very high. It would be good to get a flush of the lake soon and a fresh influx of species such as Leather Jacket and Snapper that do not breed in the lake.

Easy as you go.

No-Fuss Guss

(www.laketyersbeach.net.au)

1st Dec 2018: Flathead are hotting up
Well known local, Smokin' Joe has thrown down the Flathead challenge with a 95cm catch in the last few days. This guy knows his Flathead and how to work a boat and lures. Well done Joe, a handsome catch indeed!! Note the support for the fish's body.
We have had a share of 67,500 Estuary Perch fingerlings released into Lake Tyers last week. We get very few reports of EP's taken in Lake Tyers, but we were reminded that this elusive and slow growing fish is hard to catch and it was only 2016 when the last batch were released, not that long ago really.
We have had nearly 50mm of rain recently over 4 days and has provided welcome relief to local farmers, but not really a breaking of the drought. Likewise we expect a bit of runoff into the lake, and some fresh seawater over the bar from the mild storm, but no great change in level.

Easy as you go.

No-Fuss Guss

(www.laketyersbeach.net.au)

7nd Nov 2018: Finally!


An 80cm Mulloway was caught and released by the team from "Reel It In". They captured the moment on YouTube, so unlike other Mulloway catches reported there is no doubt about this one. We doubt it is from the fingerlings, or more catches of smaller Mulloway would have been reported (the growth would have had to have been spectacular, and stayed through a number of openings). But this one certainly has been holed up for about 2 and a bit years as the lake has not been open for that long. Whatever its origins it was certainly keeping in good condition, and congratulations boys on letting that one go!!! Well done!!!

Easy as you go.

No-Fuss Guss

(www.laketyersbeach.net.au)

2nd Nov 2018: Good advice!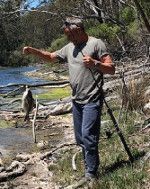 After a chat with me I suggested to Paul to try Trident Arm and he reported back success with old Prawns and hauled in a 34cm Bream on the last prawn. (see left)

A report came in of a large Perch being taken last week. Above the 40cm, so unlikely to be the fingerlings that were released a few years ago, but indicates that the habitat for Perch is OK and maybe we can be hopeful the fingerlings are doing well and will be legal size soon, if not already that size. Very few reports come in for this species.

Contrary reports on Flathead catches which is opposite to last week with indications they are biting much further up the two main arms. They are probably biting wherever there is natural food/bait to bring them on. Keep an open mind.

Easy as you go.

No-Fuss Guss

(www.laketyersbeach.net.au)

1st November 2018: Wide ranging fish activity.


Many reports are coming in highlighting that the fish are on the move. Reports of Bream around the middle of the lake system down to the buoys, and Flathead sightings much lower, even in the shallows near the sandbars. Also plenty of bait-fish being chased by packs of Tailor as well. Though the water level is as low as possible, the lake appears clear and healthy. Weed is a nuisance in some of the more protected coves, but it also provides excellent feed and cover for juveniles. Don't forget the Tavern Fishing Challenge. Well organised and great prizes, with catch and release organised.

Easy as you go.

No-Fuss Guss

(www.laketyersbeach.net.au)
15th October 2018: Lake is warming, fish are biting


The lake has begun to reach that critical temperature when reports begin to come in. Catches of 40cm Snapper around the glasshouse on Pilchard. Trawling for large Tailor has been mentioned, and Bream being taken up above Cameron's Tracks and at Cherry Tree. Hard-body lures have also been popular up around Nowa Nowa. The temperature may have to lift a bit more to get the Flathead stirring to biting stage, but some early catches indicate things are on their way.

I had the pleasure of taking a couple of very special guests out on the water recently and all on board managed to bag a decent fish. Given that this was early in the season, it was a really good effort. A sign of better days to come. Well done folks, fantastic to have you aboard!!

Looking forward to seeing you out on the water, and even more so to meeting you at the cleaning table!

Easy as you go.

No-Fuss Guss

(www.laketyersbeach.net.au)
20th August 2018: No-Fuss Tinny for Sale


We don't run boat adverts here normally, just mention our friends occasionally. But in this case I must make an exception, No Fuss Guss is selling his Tinny for $4000. This tinny has been maintained by Guss so you know it will be in great condition and includes electric starter on the 25hp Johnson outboard, 2 anchors, two additional spare alloy wheels, rego to March 2019, sounder, lights and all boat safety gear (sorry, no PFD's).
Contact Guss direct if you are interested. Mob: 0429 700 024 Click on image for enlargement.
Rob (www.laketyersbeach.net.au)

28th August 2018: Fish are hard to catch


A few reports have come in of successful outings but they have been been sporadic and there has not been much consistency. The fish at this time of the year are spawning and talk has it that, when there is a drought on land, and we are having a "green drought" (ie the paddocks look green but there is very little in the way of true fodder on them), there is a drought in the fishing as well. We have been deliberately not putting up too much here as the stocks that are there, appear to be already under pressure anyway (Pro's, chemicals, Cormorants etc etc?), and we should be patient until the next generation has been spawned before we go after the mums and dads. We should also be giving thought to supporting a slot size for Bream, ie if it is 40cm or bigger, we should put these breeders back in the water. I reckon it has worked for the Flathead, so why not Bream too? After all a good stud breeder does not send their prize bull or ram off to the butchers for a quick dollar.

Easy as you go.

No-Fuss Guss

(www.laketyersbeach.net.au)

24th June 2018: Upper lake for Bream, Tailor are plentiful


Above Cameron's Tracks for Bream and Pilchard in the lower lake for Tailor and Pinkies. Otherwise pretty quiet and conditions demanding even for experienced and usually successful anglers. The Happy Hookers bucked the the trend recently though with nice catches of Bream and Flathead (see Bragboard).

Easy as you go.

No-Fuss Guss

(www.laketyersbeach.net.au)

10th June 2018: Bream still main catch, Flathead still active


Bream have been taking hard-bodied lures and prawn high in the lake system around Camerons Tracks and above. Some have been found around Long point and higher up the Toorloo Arm. Tailor and Pinkies (Snapper) have been going for pieces of Pilchard.

This is the pointy end of the season where the only the best fishers regularly catch fish, so it is with hope we are looking forward to the Twin Rivers Fishing Competition. It is a great event, with great prizes, so consider entering, and we can catch you up there. Only the best will win.

Easy as you go.

No-Fuss Guss

(www.laketyersbeach.net.au)

18th May 2018: Pinkies making someone's day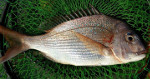 There are still good big Bream actively taking local Prawn, in the 40-43cm range. However at the moment Pinkies around the 35-40cm mark are turning up in good numbers. Try Pilchard early morning or late evening. All the fish are in fine condition and carrying plenty of meat. Large Flathead are also around with Kenneth Jonasson landing an 86cm on a plastic and No Fuss landing an excellent 77cm catch on prawn in the last week or so.
Easy as you go.

No-Fuss Guss

(www.laketyersbeach.net.au)

25th April 2018: Big Bream to be found


The cleaning table was worth a chat the other day when a local fisher had his bag that included two 40cm Bream, caught on local Prawn. No Flathead, but plenty of good Bream. The Flathead have been hard to find since the big competition a month or so ago. However the quieter waters since the Victorian and NSW school holidays have finished to have lifted the Bream catches. Still no sign of rain and the lake is as low as I have seen it for about 12 years. We will require some huge falls if the ground is to soak up first, and then fill the lake.
Easy as you go.

No-Fuss Guss

(www.laketyersbeach.net.au)

10th April 2018: Luderick on the move


If you are into Luderick fishing then there are a few on the bite in the arms of the lower lake on weed. Good catches were reported the other day, surprised us and probably have been off the radar for most people. You will need slightly smaller hooks, set under a float weighted with split shot to maximum sensitivity. Depth of bait can be critical and some experimentation around 75cm would be a good place to start. Weed can be "woven" onto the hook or loosely tied. Weed should be bright green, long and loosely filamentous. A few tugs on the float, and then a dive, should spell success.
Easy as you go.

No-Fuss Guss

(www.laketyersbeach.net.au)

7th April 2018: Activity with Bream improving
Plenty of small Bream around, but bigger ones to make up a bag are also to be found. The lake appears to be in good condition despite very low rainfall. The water level is at its lowest for many years (~10cm on #2 Rule, about 20-30cm drop since October), but the weather has been kind with no real heat waves likely to make the water temperature get too high, causing the oxygen to drop, and consequently causing a major fish kill.

Local baits such as fresh School Prawns from the local trawlers are ideal. Chunks of Pilchard will work with nearly any of the fish. The traffic at the #2 Jetty has dropped off dramatically since Easter Monday, and the water is a lot quieter for fishing.

We are featuring a photo of young Blake again who continues to fish well.

Easy as you go.

No-Fuss Guss

(www.laketyersbeach.net.au)

18th March 2018: Bream are down, but Snapper up


Snapper have been the highlight over the last fortnight. Serious fishermen (aren't we all serious?) have been struggling to make good Bream catches and the Flathead have gone a bit quiet as well. However local prawn and Pilchard around the end of the channel markers and at the east end of the lower lake have been yielding 40cm+ Snapper. These maybe a cohort that have been trapped inside for the last 21months, and probably arrived as medium Pinkies when the lake was tidal. There has been a considerable build up of windblown sand on the inside of the sandbar, however the water that was really murky a fortnight ago was as clear as crystal today. If you hook up a Trevally, as one young lad did, be prepared for a good fight! Half-peeled local Prawn has proven effective in other local lake systems.

Easy as you go.

No-Fuss Guss

(www.laketyersbeach.net.au)

3rd March 2018: On track for record Flathead year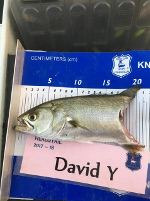 Flathead have again been reported most in catches. People have bagged out, people have caught PB's, and others happy with a decent keeper. However Bream have been harder to come by. The fact the lake remained closed last year has seemed to have reduced Bream activity. There still plenty going on though, with Tailor around as well. Many of these fish are going to have to survive at least until the middle of the year before they might be able to exit the lake, so presumably continue to grow. There is evidence of a larger fish than usual being trapped inside over summer. Thanks to David for this one (left). Speculation is that it is a big trapped Mulloway, though others have said maybe a Seal (bite too clean and none have been sighted or heard?). Anyway using Pilchard along "gullies" on the bottom lake, and Blackfellows Arm, and on the drift, has been very successful with Flathead, it even bagged a 40cm Pinkie. Local trawler Prawns for bait have been hard to come by, but should improve closer to Easter.

Easy as you go.

No-Fuss Guss

(www.laketyersbeach.net.au)

13th February 2018: Lake is fishing well

There have been many reports all over the lake for good fish. Fishing early morning, or later towards night is a good variation if you are struggling for a catch.

Plastics for Flathead, and bait for Bream perform well, with the space between boat and shoreline giving good results for Flathead. Chasing up local fresh green Prawns, eg off the trawlers in town, will be better bait for Bream than commercial products.

There are plenty of Tailor around as well. So be prepared to up your leader strength if lose a fish quickly after a short run.

Easy as you go.

No-Fuss Guss

(www.laketyersbeach.net.au)

28st January 2018: Myth is "BUSTED"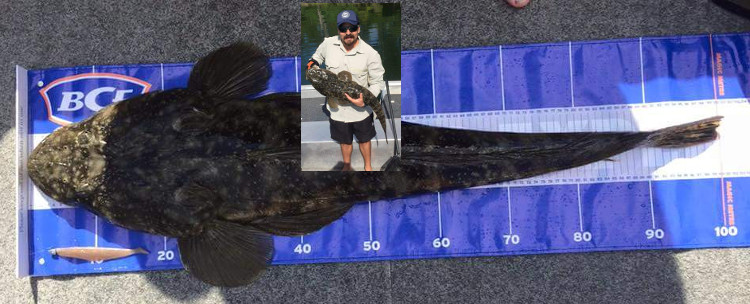 There has been a lot of talk about the existence of really big Flathead in Lake Tyers, and this photo above should settle the arguments. Matthew Thewma has cracked it and landed a "magic monster" just over the 1metre. This is a grand old girl and thanks to his careful treatment should live to fight (and breed!) another day. Generally the Flathead have been reported as the most frequently caught. The boat ramps have been very busy so things have been pretty churned up. If you prefer a quiet fish then it may be best to hold off, until the weekend is over.

Easy as you go.

No-Fuss Guss

(www.laketyersbeach.net.au)

21st January 2018: Fishing is a family affair

Things have been hotting up down here and all over the state. Just to show fishing can be a the best family fun, I suggested to Blake's Dad that Flathead don't just bite during the day, and maybe he should try a spot of night time fishing.

As a result Dad landed this 80cm in the dark. Nice angling!!!

There has been plenty of activity at the cleaning table over the last fortnight. However, no kudos to the people who cleaned a Bronze Whaler at #2 yesterday and just chucked major junks of the carcass out into the water out the front of the cleaning table. Just a reminder, the Pelicans will not eat this and Lake Tyers is not tidal, so this waste will hang around for a long time.

Easy as you go.

No-Fuss Guss

(www.laketyersbeach.net.au)

Looking for a well run Angling Club to join that has a great social side, as well as good comps that go up against teams from across Gippsland? Well have a look at the
Lake Tyers beach Angling Club's program for 2018.
11rd January 2018: Flathead and Bream abound

Well we are off and running into the 2018 Fishing Year.

Sharing a yarn about fishing in the Tavern, I got talking to Blake Cameron and his dad. Young Blake landed 45 cm on soft plastic in front of the Tavern! His family lives in Seville (Yarra Valley). This was Blake's personal best (what a way to start!) and just prove it was not fluke he went out and caught a similar Flathead the next morning. (See Brag Board).

Other catches of Flathead, both keepers and monsters have been reported both on bait and lures. However be careful about the bait, especially Prawns and see if you can source the genuine local specimens. They should be a bit bigger and worth the little extra.

Easy as you go.

No-Fuss Guss

(www.laketyersbeach.net.au)