Fishing Tips from No Fuss Guss

Guss knows the local conditions
and has skippered many fishing parties
on the lake over the years. So here it is -


The Lake Tyers

Fishing Report

Check Water Wheel Beach Cabins for your mates' next trip.



-=o0o=-
2015 Archive
31st December 2015 : Exciting new year coming up


The fishing has been hotting up, just like the weather and anglers are finding the work a lot easier than a few months ago. There have been reports of good sized Bream and Flathead taken at many places across the lake, plus other species such as Tailor. If you are new to the game, natural baits such as Prawns are your best bet (even food prawns!), but if you are familiar with the plastics/lure scene, then there will be plenty good strikes with them too. Just passing a message on from our LTB Santa, he thanks all the people who either donated goods or time to help out make this tradition a success. Great fun for all concerned. I wish all you a safe, happy and prosperous new year, and of course with tight lines!!! Take care and easy as you go in 2016.

No-Fuss Guss



Today we celebrated the life and achievements of
Allen Beveridge
, (1/4/1925 - 12/12/2015)
He was a well known and well loved man, an elder of our Lake Tyers.
Founding member of the Lake Tyers Beach Angling Club and great community contributer.
15th December 2015 : Off the bank excitement


Just to fill in a quiet spot on a Sunday with a few mates we headed around to Mill Point and took ourt chances off the bank. A number of varieties were taken, including Bream, Flathead, Tailor, Tevally, Leather Jackets and Mullet. The big rush was getting a couple of really big, but unsuccessful hookups on a Flathead in one case (line snapped), and most likely a Tailor in the other case (line bitten off). Plenty of excitement and rod bending action. Take care and easy as you go.

No-Fuss Guss



13th December 2015 : Whiting have been caught

There has been good report this season of good Whiting catches in around the weed beds

inside the main lakes at Lakes Entrance. It appears that some of these Whiting have also entered Lake Tyers while it was open and have been caught in the grass weed beds. The lake is nearly closed, so what are there now, are all we will get, but checking the weedy areas with a Whiting rig could pay well. Regular catches of Bream and Flathead continue to improve. Photos here of Jillian amply demonstrate some good angling. Take care and easy as you go.

No-Fuss Guss



Don't forget the
Regional Recreational Fishing Roundtables 2015
2 December 7pm Toorloo Arm Hall, 430 Lake Tyers Beach Road, LTB 3909
27th November 2015 : Some good fish around but patchy


The Fishing Competition was run successfully at the Tavern last weekend and a good time was had by all. Many people "weighed in" (or should I say measured and released?) fish, though for the time an effort put in and the skill of the fishers involved it was by no means likely everyone was going to be successful. Best Bream was 45cm, but not many around that length, and best Flathead was 85cm and again not many cracked the 50cm length either. However congratulations to Duggo and the boys at the Tav', a well run comp' with good outcomes for all concerned. CU in 2016? Take care and easy as you go.

No-Fuss Guss


PS Lake has re-opened with storm yesterday.

19th November 2015 : Fishing Comp' with the Tavern


Fishing Competition being run at the Tavern, mainly Thursday evening to 4pm Saturday afternoon. Not much to report as the locals are keeping their best spots to themselves to improve their chances. Snippets of info are that good Flathead are on the bite and others have caught decent Bream. Experienced locals though still having the occasional bad day. So be patient and try a few areas. I was planning to fish Saturday but unfortunately work committments have beaten me, and I will not be in the comp'. However I hope to catch one or two of you after fishing hours at the Tav'. Good fishing to all competitors and I hope you enjoy the Comp'. Waterwheel Beach Tavern Fishing Comp Take care and easy as you go.

No-Fuss Guss



10th November 2015 : Improvements all around


Flathead reported biting strong around the the Trident area and around the Island. However the warm waters are now circulating and raising lake temperatures generally (21-22Degree C) and many more fish of various types are taking baits and lures. Experienced fishermen though still having bad days. Some reports of big flathead also up the Toorloo Arm (eg Blackfellows Arm) as well, so look around. Watch your lines if you are not rigged up appropiately, as the Tailor will make a mess of your tackle. Large amounts of green algae (the good, but messy stuff) is brewing on the lower lake's sand flats and maybe a nuisance over the next few weeks. Just cast long and retrieve quick to come in over the top. The algae provide good feeding grounds for the very small fish, so don't curse it too much. Take care and easy as you go.

No-Fuss Guss



Don't forget the
Waterwheel Beach Tavern Fishing Comp
Fri 20 & Sat 21st November Big prizes!!!
23 October 2015 : Flathead big'uns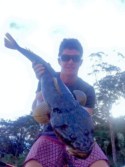 Some big Flathead have been taken recently and local experts have been reported across the state with their amazing catches. Lots of small Bream around that will go through your bait very quickly, but also reports of decent sized Bream are there as well.

Try the shallow waters in any of small arms and where the temperature rise maybe more apparent. Rowey and Luke Hume caught some nice Bream around the 39-42cm and Luke landed some Flatties into the Monster range. Nice work lads. No-Fuss Guss
NB A good way to handle a Lake Tyers Monster, support them, don't let them

hang

all their body weight from the neck down on a jaw-clipper, well done Duggo!

7th October 2015 : Flathead action


Plenty of Flathead action in Blackfellows Arm, with at least one boat today reporting in with an excellent take of good sized Flathead. The warm weather may be a bit of a hard change for us to accomodate, but it could be the very thing that kicks the fish back into life with a good appetite!!! Take care and easy as you go.

No-Fuss Guss
4th October 2015 : Patchy reports


Using Prawn above The Island has produced some excellent Bream around the 37-38cm, whereas others who have thrown everything at them lower in the lake have had no success. Flathead are also being taken but in very low numbers. Plenty of people taking advantage of the clean waters from the sandbar, but more for the exercise than the results. The opening is still quite wide and strong flowing, and this time pointing towards the incoming recent swells from the southwest. Tides should remain an influence until around Christmas time again. A fairly quiet weekend, even though a holiday on Friday making it a long weekend. Take care and easy as you go.

No-Fuss Guss
Boat Ramp Nos 2 now open!! Click here!!
28th September 2015 : Lures harder, bait consistent


Using lures has only produced sporadic results, wheras bait fishermen have found the fish hard to catch but doing lsightly better than the people using lures. Take care, and easy as you go. A bit more of the spring/summer heat and things will improve quickly. The tide is continuing to give a good flushing action in the main lower lake with plenty of clean water. 30-40mm of rain recently will continue to freshen the upper waters as well About 10 trailers using the new nos2 ramp this morning indicates plenty of optimism around.

No-Fuss Guss
2013 has been Archived
here...
14th September 2015 :Sucessful fishing competition
The Port Albert Fishing Club visited last weekend and took on the Lake Tyers Beach Angling Club in an all out fishing competition. Many fish were taken, though mainly Bream with only a few Flathead, but other fish such as Leather Jackets and Tailor were around. Various baits were tried over much of the lake and good catches were taken in Toorloo Arm with local School Prawn, and some of the visitors had success with live Yabbies (both Clicker and Freshwater). With spring in the air, and the lake just beginning to warm up, we can take it that things will only get better from now on. Take care, and easy as you go.

No-Fuss Guss



19th August 2015 : Fish have quietened down


The news around the traps is that fish are hard to come by, and even keen locals are having to work hard to make catches. The incoming bait fish continue to attract flocks of birds, and quite a few whale sightings have occured but not much excitement angling wise. Small Trevalli are around and people have had gear lost to Tailor, but not much talk of Bream or Flathead. Take care, and easy as you go.

No-Fuss Guss



10thAugust 2015: The news is good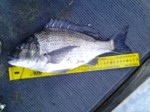 The early bird gets the worm, or on this case it is Shawn from the shop landed a nice Bream 39cm and wife Leeane got an 18cm Pinkie. Plenty of bait fish on the incoming tide with lots of bird activity. Take care, and easy as you go.

No-Fuss Guss
9thAugust 2015: The Lake has Opened


The lake has been hard to report for two reasons I have been flat out in Melbourne the last few weeks workin' my butt off and they lake has been so high that conditions have been difficult to assess. However the suspense is over the lake drained out today with a mighty gush through a pretty deep channel, so the wait for a really good break out has been worthwhile. However the fishing will be difficult to predict over the next week or so until things settle again. Stay tuned...

No-Fuss Guss



23 July 2015: Twin Rivers Bream Classic

Not exactly Lake Tyers fishing news, but I thought you might like to know that Gus caught the heaviest kept Bream at the Twin Rivers Bream Classic 1.471kg. He won a $175 prize for heaviest kept fish and cemented his name into the winners list. It was a great team experience with Lorraine, Andrew and myself making up the numbers. Gus has been studying the conditions and aiming to do well for a number of competitions, and with 600+ entrants, this time he has hit that sweet spot. Congratulations Gus!!! Rob

3 July 2015: Tactics


Apparently with a good sounder schools of bream can be located from the Green House through to Trident. Once located, try hard body lures and vibes for best effect. Lake level is steady and pretty dark with tannins after recent rains. Nearly all the sands around the islands are now navigable with a tinny style vessel. Take care, and easy as you go.

No-Fuss-Guss



29 June 2015: Fish off the bite


Not much activity in the Nos2 Boat Ramp car park, and this is the same as the talk of the fishing. A lovely Sunday morning yielded no hits, and not even a hint the fish were interested in lures or bait. Locals have reported likewise this last week. Maybe higher up, near Nowa Nowa it maybe different. Definitely a winter chill in the air. Take care, and easy as you go.

No-Fuss-Guss



18 June 2015: Bream still the mainstay, but Flatties can be taken


Fishing has become much quieter, but there are still hauls for the experienced and canny around. Apparently vibes and other hard body lures are working well if you can find the fish. Use your sounder carefully and don't surprised if you find them in deeper water a little way up the arms. Good hauls by tight lipped fishermen were taken last weekend, who shared little but a visual feast on the cleaning table. We have had 20+mm of rain just before this weekend end, so that maybe a game changer. Take care, and easy as you go.

No-Fuss-Guss



9th May 2015: Bream can be found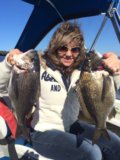 The rain has eased, we have had some good weather and the boats have been enjoying the higher lake levels. People are finding very good bream up along the banks in the smaller arms in the Nowa Nowa and Toorloo Arms. Using local prawn and anchoring off the bank, but fishing back to the bank into the shallows, some excellent catches are being taken. The Flathead have become a bit harder to find, but never the less good catches are occasionally reported. Generally the season is holding out longer this year. Alin Tourian pictured with first time catches of 44&43cm Bream. Great day out! Take care, and easy as you go.

No-Fuss-Guss



29th April 2015: Lake responds well to plenty of Rain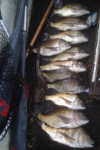 Heavy rains last weekend did not dampen the spirits of keen anglers who collected live Prawn on the Friday night and used it to great advantage Saturday afternoon with the landing of a 47cm Monster Bream (Would that be a lake record for fishing or exaggeration?). Also a very good haul of good sized Bream on very fresh local Prawn, and Flathead taking plastics made for a very good day of fishing for the Happy Hookers Fishing Club. Rowey won the comp' with the Monster Bream, well done! Bream were to be found along the banks and well up in the small arms between Bulmers and The Island. The water is quite dark and cloudy with the run-off. Take care, and easy as you go.

No-Fuss-Guss



21st April 2015: Cooler weather is making it harder


Bream can still be found but the search is becomoing a good bit harder with big catches still possible but generally the feeding is slowing down. What was hot last month is now producing good results one day an d marginal to poor the next. Plenty of small fry taking easy baits and stripping hooks. Fish generally wary of carelessly baited hooks, so keep the metal covered. Take care, and easy as you go.

No-Fuss-Guss
12th April 2015: Guest Tipster, Roy, has the Easter Report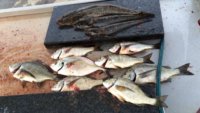 "Over easter period 2015, while staying at Waterwheel Cabins park with the family,my name is Roy C,and I have some pics to show how good the fishing is in Lake Tyers at the moment. Best Flathead over Easter weekend was 65 cm,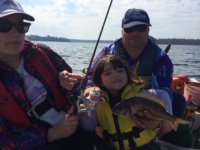 released safely after pics and Bream at 36 cm. Also good mixed bag every day out. All fish caught on Prawn, bait and plastics. When quiet, my wife Brenda C caught the 65 cm flathead and my little daughter Gabriella caught the 36 cm bream. Also caught nice Silver Trevally shown in our pics and a Flying Red Gurnard much to our surprise. But all in all fantastic stay with very friendly people in town, publicans very helpful and great food, thank you for a magnificent place and we'll be back very soon.

" Thanks Roy, take care, and easy as you go.

No-Fuss-Guss
4th April 2015: Good catches in many locations


Good catches of both Flathead (around 45 cm) and Bream (up to 43cm, but many undersized as well) are being reported around the lower lake, from Bulmers, down and back up to Blackfellows Arm. With good Easter weather the fish have been active biters. Bait appears to have the edge over lures at the moment. However experience and good strategies could easily reverse that. So take local Prawn (half peeling is a good variation that often makes a day successful) and your favourite lures. The lake is cooling gradually and this will slowly take edge off many fishes' appetite, but the season is not over by any means. Take care, and easy as you go.

No-Fuss-Guss
18th March 2015: Action on the lower lake


Good sized Bream (Blue Noses) are taking Prawn right around the lower lake with patches off the Glasshouse providing plenty of action. The are plenty of undersized Bream around as well, so consider using bigger hooks (eg 2-0 Baitholders) and baits (eg whole Prawn, half Pilchard) rather than smaller hooks, and do the little fish and yourself a favour. You may have less hook-ups, but you won't be injuring fish you can't take home. Plus there are still a lot of monster Flathead active so a larger hook and bait will not go astray with them either. The upper limit on Flathead (over 55cm must be returned, and 55-30cm has a bag max 5) has seen numbers of catches of big Flathead increase, so best be prepared with the bigger tackle. Prawn season still on, but getting to the end of the run this month. Take care, and easy as you go.

No-Fuss-Guss
14th February 2015: Consistent catches


The pace has eased with holidays over for many, but the Bream and Flathead are still plentiful. Around the channel markers, and even as close as Number Two Boat Ramp and Jetty are giving good sized fish and plenty of action. Up the arms on both sides (eg above the Island) are worth the effort as well. Glass House and the Green House with local Prawn, part peeled also working well. Take care, and easy as you go.

No-Fuss-Guss
5th February 2015: Good results all around


The lake is fishing well with good summer catches being reported. The Channel Markers have been giving anglers good sport with catches of Bream and Flathead on Pilchard and Prawn. Trident up to Camerons has also had good reports with similar baits and also plastics. The Channel Markers were getting some repairs last week, and the entrance has completely closed. Even big storms and high seas directly from the South East failed to re-open it, though some run-over into the lake did occur. Prawning has been lo-key so far but should kick start again next new moon which will be in about a fortnight's time. Take care, and easy as you go.

No-Fuss-Guss
22nd January 2015: Things are heating up


The opening is nearly closed with the run in/out only occuring at the top of the tide. The Prawns are beginning to run, and are there if you are prepared to put the time in. Early morning is best for the big fish, but good Bream are also being taken during the day between Camerons and the Trident on peeled Prawn. Cut Crab has worked well at Long Point, but generally the lake is fishing well lower down and a bit up each arm. Even not so obvious, places like around the bouys have been producing good fish. Pick the top or bottom of the tide to get the edge. Take care, and easy as you go.

No-Fuss-Guss
5th January 2015: Lake providing plenty of action


Reports of very big Flathead on live Mullet have been coming in, with plastic lures around the edges though still giving people their Flathead bags. Bream are taking Prawn and having some Pilchard handy would also be a good idea. Not much action on the Prawn Season with only a few eager beavers out with lights so far. North of the mud islands is still a popular spot with canoes, and people prepared to wade. The Lake is still tidal and currently at lowest levels. Take care, and easy as you go.

No-Fuss-Guss