Fishing Tips from No Fuss Guss

Guss knows the local conditions
and has skippered many fishing parties
on the lake over the years. So here it is -


The Lake Tyers

Fishing Report

Check Water Wheel Beach Tavern for your mates' next trip.



-=o0o=-
11th Nov 2022: We are drawing a line under the No Fuss Guss Fishing Tips.



We have faced a bit of an information drought over the last few years and as people are enjoying the experience of instantly posting their own reports on Facebook or other social media pages, have found we can't get our information out quicker than that, and as they are putting their photos onto FB we are unable to "pinch" them as we don't have permission to use them.

Consequently we are not updating these pages and we are going to refer you to:
Lake Tyers Fishing Group
Gippsland Fishin

g



However all the previous comments and photos will be kept as an archive (under this link) of what a great place East Gippsland is for fishing and Lake Tyers in particular.

Most of all I would like to thank No Fuss Guss (Garry Frances) for his enthusiasm and support over the last 7 years. His genuine observations and contacts have made it all worthwhile. He is a great bloke and well worth a shout at the Tavern if you are lucky enough to run into him. He will be contributing to the above FB groups himself with his own fishing so look out for him there too.

I am going to change this page to a directory of links to the different seasons of fishing, arranged in Months and Years so you can look up what was going on up to 14 years ago, month by month. While not current, checking the history can give a person new inspiration to try new spots or techniques.

Best wishes everyone for the future, and thank you for your support.

I will let Guss sign off,
Easy as you go.

No-Fuss Guss

(www.laketyersbeach.net.au)
Rob Ward

APR
4th April 2022: Lake sets a record and opens three times in 12 months.



Just a quick note. Enough of the torrential rain falling in northern NSW has come down the coast in the form of an East Coast Low and produced enough storm activity to soften the bar and the lake has opened for a third time in 12 months at a level of just above 120cm. This is truly exceptional as the usual level for an opening is around 220cm, almost a 1m higher than this time. It is the first time a wash over has had such an effect on the lake, that locals can remember. However recent storm wash overs in previous have been when the lake's level was about 40-50cm, barely above average ocean height. So there was little head of water to push out. What effect this will have on the prawning will remain to be seen as it now provides an escape path for the otherwise "land locked" Prawn population. It still proves popular though with many lights to be seen in the evening trying their luck.

Easy as you go.

No-Fuss Guss

(www.laketyersbeach.net.au)

MAR
15th March 2022: Locals happy with the state of the lake.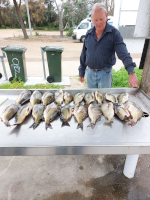 The lake is in great condition and fishing well. People are reporting good Bream catches generally and enjoying very productive days on the water. John here was out with a mate and bagged out is pretty quick time. These were taken around the Channel Markers and not a long way from Boat Ramp Nos 2.

The lake is about half way up the blue measuring pole and making navigation and launching etc much easier. The people up north are copping huge downpours with flooding etc. Real disasters. We may see a bit of it come down the coast, but no real sign of it anything. The Prawn season in the lake is hitting new highs with many people reporting high numbers of prawns and good catches. If you see any suspicious netting activity then take photos of people and their vehicles. There is a fishing hotline to report your observations. Just as a strong word of caution though, there is still one legal bait licence operating in the lake and it is illegal to interfere with any of their activities.

Easy as you go.

No-Fuss Guss

(www.laketyersbeach.net.au)

FEB
5th February 2022: Locals with know how....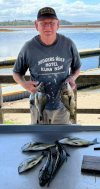 Rocket pictured here knows when the fishing is about to take off. His place in Lake Tyers is close to Number 2 Jetty and Launching Ramp. Recently locals have been able to catch small quantities of local School Prawns in the lake. A few are eating size, but most are pretty small, even on the bait scale. The lake is nearly closed so they will be unlikely to escape and will be there to feed the local fish and human population.

As you can see Rocket has landed a nice haul of Bream and Flathead, destined for the dining table. It is great for the locals to use their knowledge and proximity to the lake to know when and how the local bait can be caught. (Try out in front of the #2 boat and car parking area in the shallows with a dipping net and a prawn light). You might even get enough to freeze for later on in the year. Over the counter bags of frozen bait Prawns are fairly expensive by the kg.

Others wait for the run out of the prawn season and buy the last of the runs cheap in bulk and bag up their own bulk supplies for the following winter and summer.

Easy as you go.

No-Fuss Guss

(www.laketyersbeach.net.au)

JAN
5th January 2022: Visitors having a great time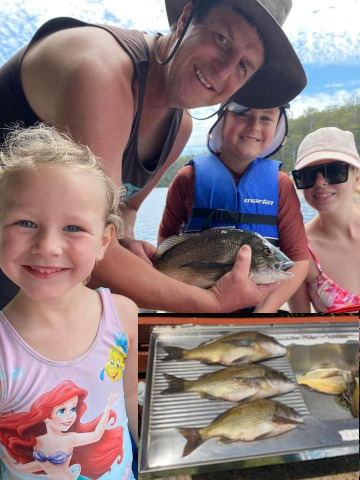 Julian has been a long time fan of Lake Tyers as a top fishing destination and this new year it did not disappoint him and his family.

Using a boat he got among the Bream and landed quite a catch one day. It was a great family day out with Paris, Jed and Evie all pitching in to help Dad haul them in.

The day ended with a count of 6 nice Bream keepers.

The lake has been fishing well. People are consistently being able to find Bream or Flathead, with the Estuary Perch also found in some catches. These fish were released as fingerling quite a few years ago now and are very good size if you can get on to one or two.

The lake continues to be open and with a fall of 45mm last week is likely to stay that way for a while longer.

The slot size for keeping Bream in the main lakes (at Lakes Entrance etc) is 28-38cm, but in Lake Tyers there is only a minimum size of 28cm. If you catch a big one maybe give the slot size a go and only take home the photo.
Welcome to the new year, have fun fishing.

Easy as you go.

No-Fuss Guss

(www.laketyersbeach.net.au)

Don't forget we have all the back issues as well ;-)
13 years of fishing wisdom and fun!!!