Mountain Bike Track at Nowa Nowa
A local set of Mountain Bike Tracks
Like to pound the Highways and by-ways? Or like the adrenalin rush of flying down a hill and bouncing around the corners at break neck speed. Or maybe just like a slightly more challenging bike course in a beautiful environment? Then this is the area for nearly all your thrill seeking cycling fantasies to be put to the test. Pick a track that meets your skills and fitness and have a great day exploring a bit of the catchment area of our great lake, Lake Tyers.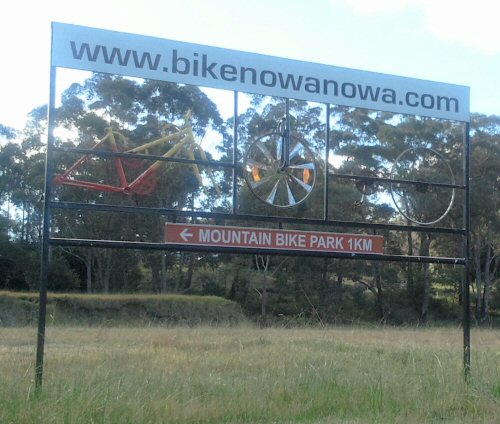 This is the sign you will see to the north of the highway and on the right of Forestry Road.
You may be able to get a paper map, but if not, this sign at the start of the tracks will help you choose a track, or this one from their website:
MAP
, or better still print yourself an original copy from the
PDF file on the DSE website
.
Welcome sign, map and bike sculpture.
The area is known for its excellent Artists Community
If the experience here whets your appetite then look up this site for more info and broaden your experience next holidays.
Have fun and stay fit!
Common sense rules.
This facility is shared by many people, leave it as you would like to find it.
Directions:
From Lakes Entrance or Bairnsdale
drive to Nowa Nowa township and cross over the Boggy Creek and take a left turn into Forestry Road and follow it for about 1km.
From Orbost
drive towards Nowa Nowa but turn right before Boggy Creek and take a left turn into Forestry Road and follow it for about 1km.
The tracks start at a point on the left hand side driving along Forestry Road. There is enough room for quite a few cars to park at that point.
Make sure your car is secured and valuables are not easily spotted.
This is a general security warning to all tourists in the East Gippsland area.