Santa 2015
The arrival of the of the big red Toorloo Arm Firetruck heralds Santa's entry for 2015. Christmas Morning at Lake Tyers Beach would not be right without Santa coming along and giving a little joy and delight to the local's children and visitor's children alike. They are all welcome at Lake tyers Beach.
Santa and his hardworking helpers had been for days getting the bags of sweets and iced lollies to hand out free to the kiddies.
This time of the year has a great atmosphere and it is due to the generous people who give their time or donate money to this memorable Lake Tyers experience.
| | |
| --- | --- |
| | |
| | |
| Santa getting special encouragement from his very special helper. | Elf Graeme checking the progress of the distribution and helping Santa keep up with his important work. |
A special thank you this year to Alyssa Warfe for the photos, her help to document this occasion is greatly appreciated.
Santa's suit is an institution in this area have been handed from a previous generation of Santa to this Santa.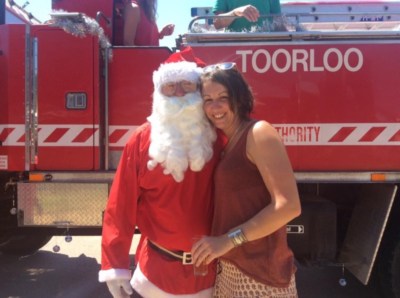 Thanks to all the helpers whose sense of fun helps make Santa happy and have a good day too!!
Thanks to the
Lake Tyers Angling Club
, Safeway ,
Lake Tyers Beach Shop
,
Foodworks
and the
Toorloo CFA
for their help on this occasion (the Real Truck was attending a real fire!!),
and especially to
Santa and his helpers
- you know who you are!!!
A fantastic community effort, a treat to delight local and visitor alike.
Bless ya, Santa!!