Early Water Wheel Beach Tavern History
We would like to share this early pamphlet advertising the Tav'
First of all we love the Tav' but this is not the official site and if you are looking for the official site then head off to the
Water Wheel Beach Tavern
. This is a glimpse back in to the past (c.1998), as the tavern has changed considerably over the last decade and is getting major refurbishment at the moment. So just remember this is history, if you want to enjoy the latest up to date Tavern experience, then stop browsing the internet and go down and enjoy it for real.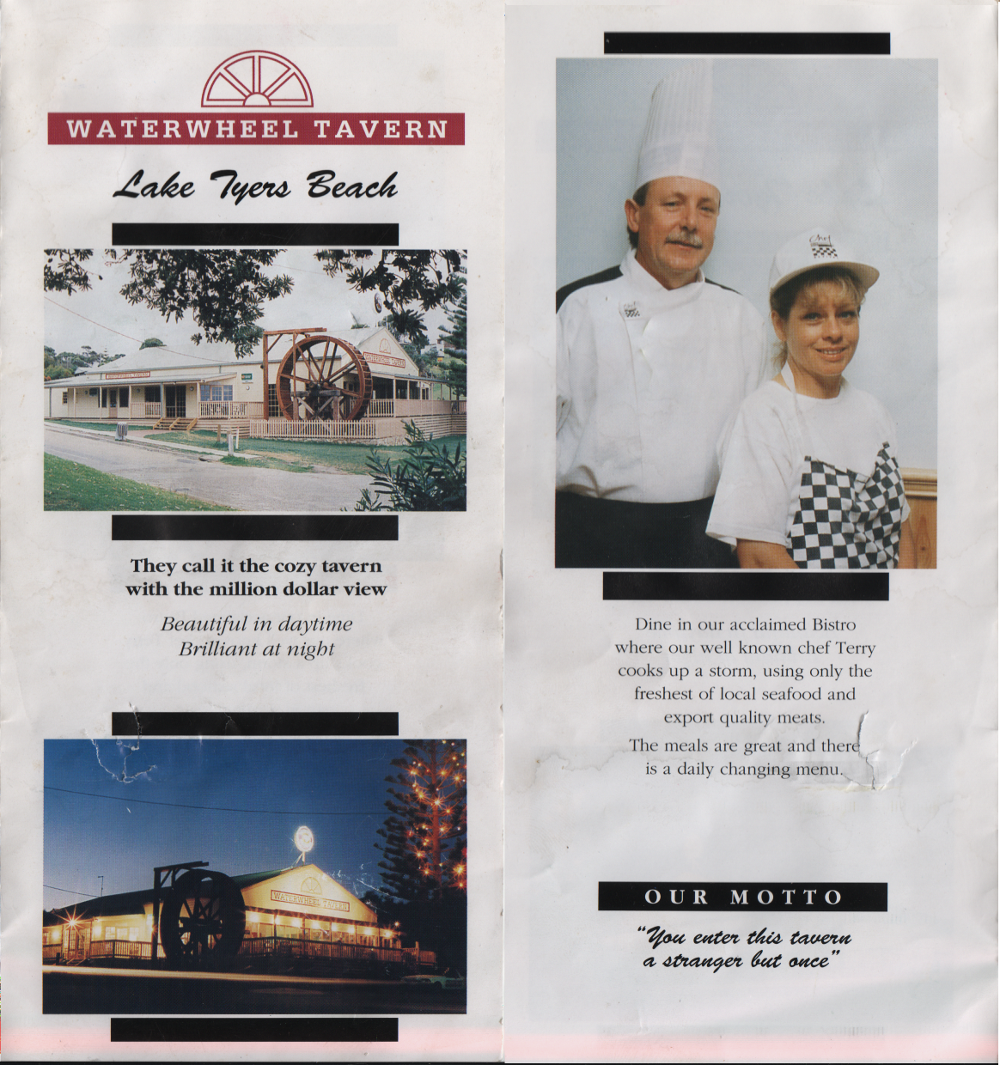 This shows the Tav' before the lower decks were added. The upper deck has a verandah style roof placed over the top. Most recently this was a popular spot as it had plastic curtains put in place but still had the open air feel. A local identity Roxy (in the checkered shirt), is the person who had kept this pamphlet for us to enjoy, thanks!! Roxy has worked all around the district but has returned, is currently working at the Tav', bringing great experience and skill to the kitchen. Alas the Water Wheel is there no more. The running water and construction style has taken it toll and it had literally shaken itself to a state of dangerous-ness that could not be fixed easily. So the Wheel is no more. However there is a table in the tavern made form the wood of the beams the wheel rested on. The colour of the wheel in this pamphlet is ubundant in the restored wooden table. When you make a booking, ask for the special water wheel table!! The timber is Red Mahogany, a now protected tree in East Gippsland.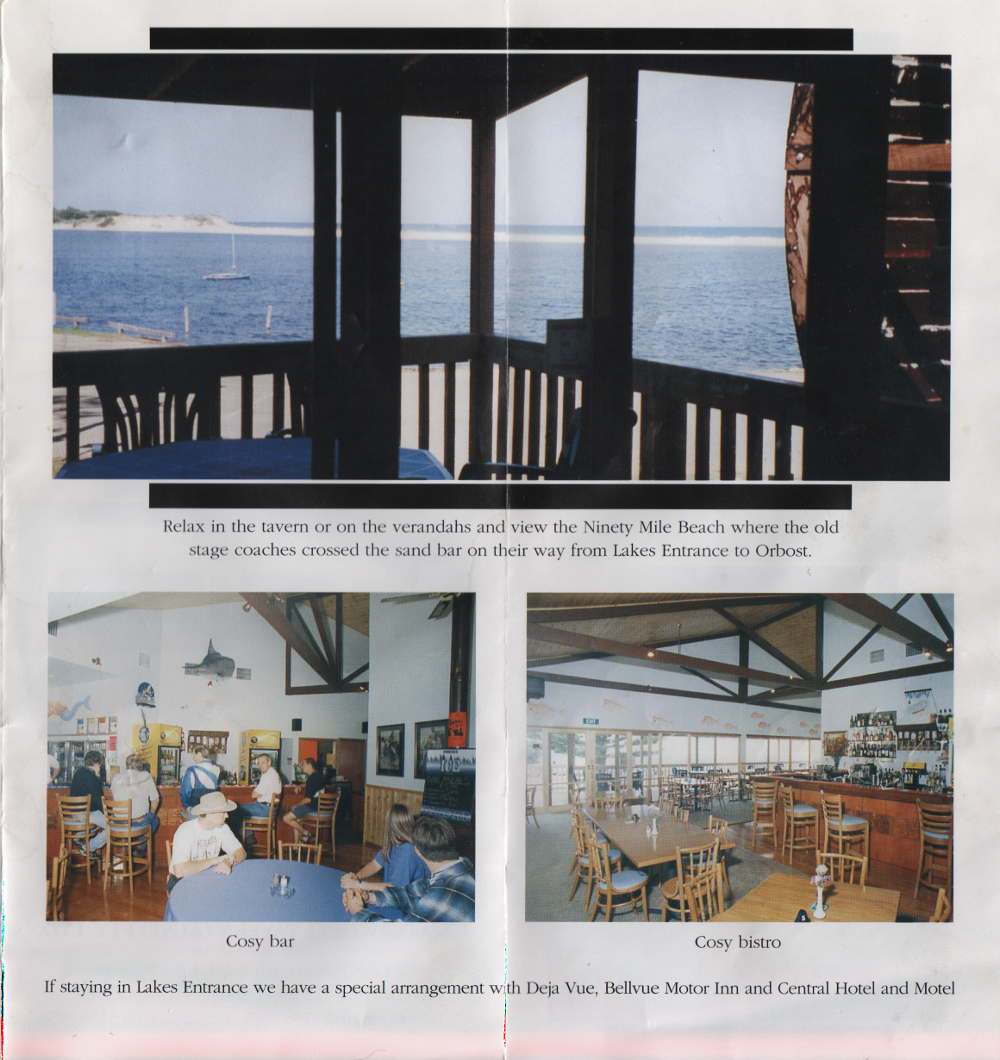 Any local will be able to vouch that some things have stayed the same. Just look at the old Marlin still over the bar!!! The wall to the right of the bar has gone and the area is all open now. The central toilets have been moved to the northern wall.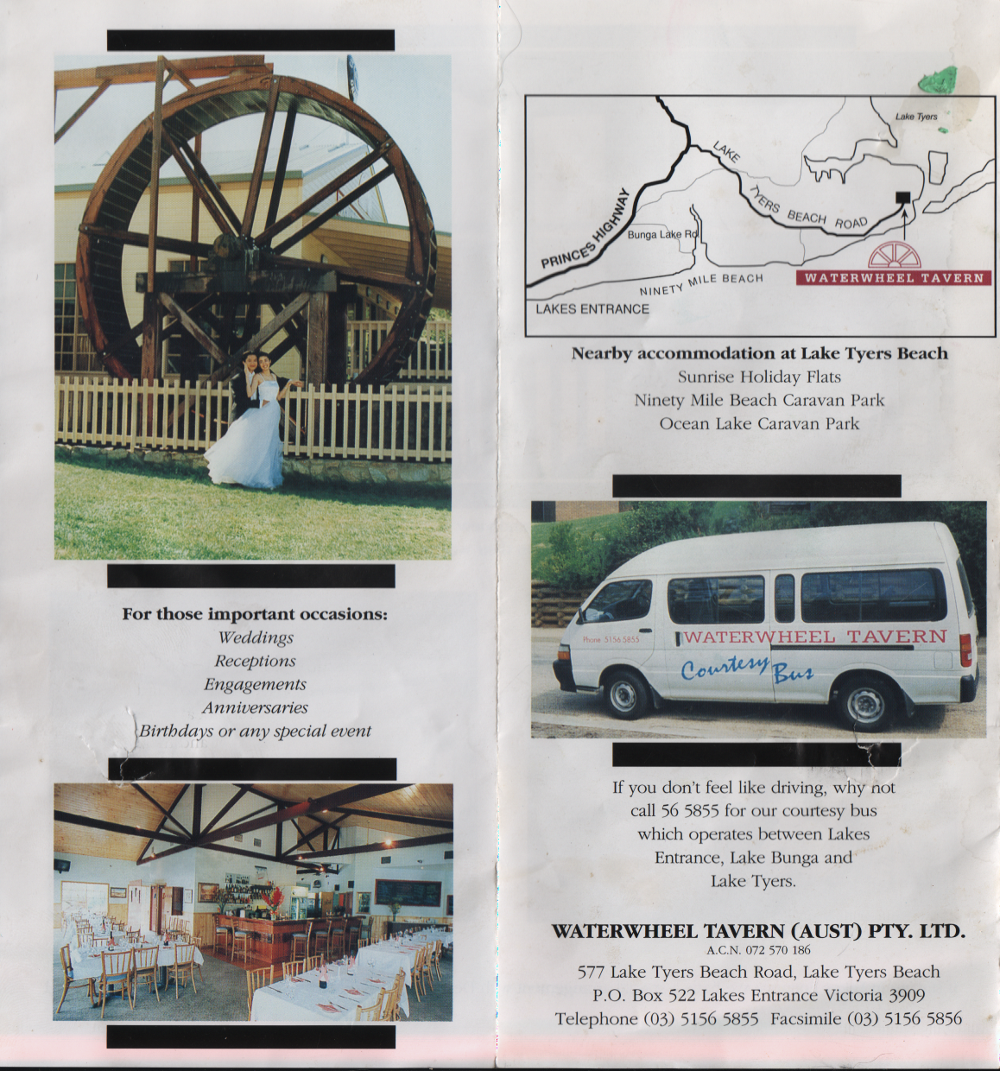 About the only thing that has remained constant is the phone number and of course the address!! However here is the wheel in all its early glory. I wonder who that young wedding couple are and where they are now?